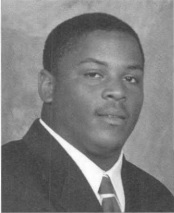 Nationality

United States

Position

FB

Birthday

6/28/1986

Hometown

Columbus, OH

High School

Eastmoor

Height

6'0"

Weight

234

Past Teams

Ohio State

Seasons

2004, 2005, 2006, 2007
Major: Finance (2006-07)
Weight: 234 (2006-07), 250 (2005), 220 (2004)
2007 Media Guide: A bruising blocker and powerful inside runner who fights for extra yards and drags defenders with him… has lettered each of the past three years at fullback and has played in 30 games in that span… has tremendous leg drive and is effective in short-yardage and goal-line situations … a sure-handed receiver.
2006: Played in all 13 games as a junior, almost entirely on special teams.
2006 Media Guide: Has lettered each of the past two years at fullback and has played in 17 games in that span … has dropped 15 pounds since last year in an effort to improve his speed and perhaps see more playing time in 2006 … also plays on the kickoff return unit.
2005: Played in 11 of the Buckeyes' 12 games (all but Texas) … logged a total of 38 minutes … longest stints were seven minutes against Minnesota and Northwestern … was a member of the kickoff return team … did not have any statistics.
2005 Media Guide: Lettered last year as a true freshman, playing in six games and starting at Michigan State … bruising fullback who blocks and runs with equal aplomb … tenacious blocker and a powerful runner who is always lunging forward for additional yardage … has tremendous leg drive and is a load in short yardage and goal-line situations … also a sure-handed receiver … goes into the season as the backup to Brandon Schnittker, but will see a lot of playing time … has a chance to take his place alongside some of the great fullbacks ever to play at Ohio State.
2004: Made a favorable impression early and wound up playing in the final six games of the season … had four carries for 10 yards and quickly became a crowd favorite with his determined running … carried the ball twice against Indiana for nine yards and had solo carries against Michigan State and Michigan … also reeled in two passes for five yards, one against the Spartans and the other against the Wolverines.
High School: One of two players in this year's freshman class whose father was a standout player for the Buckeyes … his father, Thomas "Pepper" Johnson, earned first-team All-America honors at Ohio State in 1985 at linebacker before going on to a brilliant professional career … Dionte was a star in his own right in high school, earning first-team All-Ohio honors as a senior … has outstanding speed for a fullback and is a tough, punishing blocker … in one of the more unusual position switches, he played center as a junior before being switched to fullback for his final season (not unlike former Ohio State All-American Steve Luke who began his career at center and was switched to cornerback where he earned All-America honors) … rated the 22nd best fullback in the nation by Prep Football Report … SuperPrep rated him as one of the top 70 overall prospects in the Midwest … won the Columbus city wrestling championship as a junior at the 215-pound weight class.
Personal: Is the son of Pepper Johnson and Monica Hawkins … his father is an assistant coach with the 2004 Super Bowl Champion New England Patriots … former Buckeye All-American Keith Byars is his godfather … goal this year is to score his first collegiate touchdown and get the fullback position more carries (2006) … favorite subject is math.
Offense
| Season | Team | G | GS | Rush Att | Rush Yds | Rush Avg | Rush TD | Tgt | Rec | Rec Yds | Rec Avg | Rec TD | Lng | 2 Pt Conv | Fum | Lost |
| --- | --- | --- | --- | --- | --- | --- | --- | --- | --- | --- | --- | --- | --- | --- | --- | --- |
| 2004 | Ohio State | 6 | 1 | 4 | 10 | 2.5 | 0 | NA | 2 | 5 | 2.5 | 0 | 5 | 0 | NA | NA |
| 2005 | Ohio State | 11 | 0 | 0 | 0 | 0 | 0 | 0 | 0 | 0 | 0 | 0 | 0 | 0 | 0 | 0 |
| 2006 | Ohio State | 13 | 0 | 0 | 0 | 0 | 0 | 0 | 0 | 0 | 0 | 0 | 0 | 0 | 0 | 0 |
| 2007 | Ohio State | 13 | 0 | 1 | -1 | -1.0 | 0 | 0 | 0 | 0 | 0 | 0 | 0 | 0 | 0 | 0 |
| Total | - | 43 | 1 | 5 | 9 | 0 | 0 | 0 | 2 | 5 | 0 | 0 | 5 | 0 | 0 | 0 |