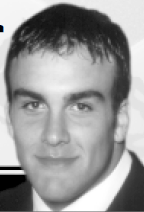 Nationality

United States

Position

FB

Height

6'2"

Weight

250

Birthday

5/24/1983

Hometown

Sandusky, OH

High School

Perkins

Current Team

Ohio State

Seasons

2001, 2002, 2003, 2004, 2005
Post-OSU Update: After Ohio State, Brandon Schnittker began a successful career in sales and marketing. Most recently, he is the Vice President of Sales at Hologic. (updated: Mar. 2023)
Major: Marketing (2004-05), Political Science (2003)
Weight: 250 (2001-05)
2005 Media Guide: One of just two true fullbacks on the roster … three-year letterman who has played in 32 games and has four career starts to his credit … has been a key reserve and sometimes starter the past three years … heads into 2005 as the Buckeyes' No. 1 fullback … solid in all phases of the game, but has been used primarily as a blocker throughout his career … has just five career carries, but is a strong runner and a sure-handed receiver … would obviously love to carry the ball more, but willingly does whatever's best for the team … his goal this year is to score his first collegiate touchdown … logged more minutes at fullback and "H-back" than any other player last year and is listed as a returning starter even though the Buckeyes rarely opened in an "I" formation … an OSU scholar-athlete.
2004: Played in nine games and started against Marshall and Indiana … split time with Branden Joe at fullback and H-back … no rushing attempts, but he did have two receptions (Northwestern and Oklahoma State).
2004 Media Guide: Teams with Branden Joe to give the Buckeyes a pair of dependable fullbacks who excel in all phases of the game … stepped in as a starter last year when Joe was hurt and held down the fort until Joe's return … played in the first eight games and started against North Carolina State … suffered a hamstring injury at Indiana in week eight and missed the last five games of the season … is back at full strength and was very productive in spring practice.
2003: First carry of the year was a 5-yard gain against North Carolina State … had two carries for five yards at Wisconsin … had four receptions for 26 yards … earned his second varsity letter.
2003 Media Guide: Brandon Schnittker is again expected to share time with Branden Joe at the fullback spot … did so last year and appeared in all 14 games for a total of 90 minutes … made his first collegiate start against Penn State … was used primarily as a blocker last year, but has the size and power to be an effective inside runner … lone carry of the year was a 1-yard run against Kent State … his first collegiate catch was certainly a memorable one – a 15-yard grab in the fourth-quarter of the Michigan game that kept the Buckeyes' game-winning drive alive … made steady progress last year and should have a good year in 2003 now that he has 14 games under his belt.
2002: Received his first varsity letter … longest stints were 12 minutes against Washington State and Cincinnati … was the starter against Penn State when the Buckeyes opened the game in a one-back set.
2002 Media Guide: Brandon Schnittker is a skilled young fullback prospect … heads into the fall listed behind Branden Joe … both players figure to see a lot of action … good runner and blocker … had a productive spring … coaches would like to see him become even more physical.
2001: Redshirted.
High School: Division IV Associated Press co-Defensive Player of the Year … First-Team All-Ohio at linebacker … Defensive player of the year in the district … 105 tackles, 13 tackles-for-loss, three sacks, four forced fumbles, three fumble recoveries and five interceptions (two for touchdowns) as a senior … as a fullback, rushed for 900 yards and averaged 9.2 yards per carry … National Football Foundation Scholar-Athlete … wrestled, played baseball and competed on the track and field team … National Honor Society member.
Personal: Born May 24, 1983 … son of Marilyn Hamann and Paul Schnittker … two brothers, Ryan and Michael … cousins Max Schnittker (1945-46) and Dick Shnittker (1949) played football at Ohio State … Dick also was a basketball All-American and played in the NBA with the Minnesota Lakers … would like to be a teacher when his playing career is finished … two of his favorite memories are winning the state high school championship at Perkins and the national championship with the Buckeyes.
Offense
| Season | Team | G | GS | Rush Att | Rush Yds | Rush Avg | Rush TD | Tgt | Rec | Rec Yds | Rec Avg | Rec TD | Lng | KR | KR Yds | KR TD |
| --- | --- | --- | --- | --- | --- | --- | --- | --- | --- | --- | --- | --- | --- | --- | --- | --- |
| 2002 | Ohio State | 14 | 1 | 1 | 1 | 1.0 | 0 | NA | 2 | 27 | 13.5 | 0 | 15 | 1 | 11 | 0 |
| 2003 | Ohio State | 9 | 1 | 4 | 12 | 3.0 | 0 | NA | 4 | 26 | 6.5 | 0 | 9 | 0 | 0 | 0 |
| 2004 | Ohio State | 10 | 2 | 0 | 0 | 0 | 0 | NA | 2 | 19 | 9.5 | 0 | 14 | 1 | 9 | 0 |
| 2005 | Ohio State | 8 | 0 | 18 | 47 | 2.6 | 2 | NA | 0 | 0 | 0 | 0 | 7 | 0 | 0 | 0 |
| Total | - | 41 | 4 | 23 | 60 | 2.6 | 2 | 0 | 8 | 72 | 9.0 | 0 | 15 | 2 | 20 | 0 |