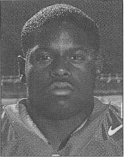 Nationality

Canada

Position

NG, DT, DE, OLB

Height

6'4"

Weight

275

Birthday

5/17/1977

Hometown

Brampton, Ontario

High School

Centennial

Current Team

Ohio State

Seasons

1996, 1997, 1998, 1999, 2000
Post-OSU Update: Clinton Wayne was the 21st overall selection in the 2000 CFL Draft. Wayne played eight seasons in Canada, winning the Grey Cup in 2001 and compiling 132 tackles and 13 sacks. After his playing days, Wayne went on to coach for University of Toronto. He is currently coaching defensive line for a prep school in Toronto. (updated: Apr. 2022)
Major: Sport & Leisure Studies (1997-00), Unknown (1996)
Weight: 275 (1998-00), 240 (1996-97)
2000 Media Guide: Experience counts for a lot in college football, and no one on the defensive side of the ball is more experienced than Clinton Wayne. A veteran of 36 games, Wayne has a kind of knowledge that will be invaluable to Ohio State's defensive line. "Clinton is a veteran player who has good quickness and gives us great effort," Jim Heacock, defensive line coach, said. "He's a guy that can get to the quarterback." Wayne is listed as a backup at the defensive tackle spot on the two-deep but he's shown the ability to start in the past. Look for him to vie for quality playing time this fall.
1999: Played in nine games, making four tackles … two were solos against Ohio and Purdue … pounced on a loose ball for his first-career fumble recovery against Michigan after Mike Doss crunch Tom Brady to jar the ball loose … played at least six minutes in eight of his nine games.
1999 Media Guide: Clinton Wayne is a playmaker. Incredibly strong and quick and extremely athletic, Wayne always seems to be around the football when he is in games. "Clinton is a big-play guy for us," defensive tackles coach Jim Heacock said. "Last year was his first time inside [playing tackle] but he adjusted and really came on at the end of the season. He has loads of ability and he can get to the quarterback." Wayne enters the 1999 campaign as a backup at one tackle position, but he knows what it takes to start. His career numbers include 27 games played, eight starts, 31 tackles and two interceptions, including one returned for a touchdown. He is the only current OSU lineman with two interceptions.
1998: Started the first four games of the season at defensive tackle but was hampered by a knee injury and ended up coming off the bench the rest of the season. Did play in all 12 games and he played well, recording 20 tackles, one sack and an interception. His interception, which he returned 17 yards, helped break open the win over Northwestern. Had high games of three tackles vs. Indiana, Michigan and Texas A&M. He also had a 9-yard tackle-for-loss against the Wolverines.
1998 Media Guide: Strong, physical and athletic interior lineman … in fact, tackles coach Jim Heacock says Clinton "is the best overall athlete among the tackles" … tough to defend … has shuffled around the line in his two years, but appears to have settled in at the tackle position … pass rushing is his strength … had an active spring camp … Heacock also says Clinton "has been a
playmaker from day one … he really concentrated on technique this spring and this improved his game."
1997: Played in all 13 games … began the year as a reserve nose guard and wound up the season backing up Matt LaVrar at defensive end … started four times at end early in the season … had 11 tackles, including one tackle for loss … showed his athleticism against Indiana, blocking a pass at the line of scrimmage and then grabbing the ball out of the air and returning it 38 yards for his first collegiate touchdown … also credited with a forced fumble.
1997 Media Guide: Redshirted last year as a freshman … expected to battle senior Jimmie Bell for the starting nose guard position … is a big, strong, physical player, who can also help out at tackle or end if need be … enrolled in the spring of 1996 and impressed the defensive coaches with his savvy and ability … combination of quickness and strength makes him difficult to defend … a diamond-in-the-rough.
1996: Played in the first two games, but then was sidelined for the remainder of the season with a neck stinger … had three tackles, including two tackles for loss and a sack, and a fumble caused in nine very productive minutes against Rice.
High School: Enrolled in spring quarter of last year and played in the spring game, totaling four solo tackles and two sacks for a loss of 17 yards … regarded, by many, as the top player in Canada … All-Midwest region choice by Bluechip Illustrated … High school coach was Ken McKay.
Defense
| Season | Team | G | GS | Tkl | Solo | Asst | TFL | TFL Yds | Sacks | Sack Yds | FF | FR | Int | Int Yds | Def TD |
| --- | --- | --- | --- | --- | --- | --- | --- | --- | --- | --- | --- | --- | --- | --- | --- |
| 1996 | Ohio State | 3 | 0 | 3 | 2 | 1 | 2 | 16 | 1 | 14 | 1 | 0 | 0 | 0 | 0 |
| 1997 | Ohio State | 13 | 4 | 11 | 8 | 3 | 1 | 5 | 0 | 0 | 1 | 0 | 1 | 38 | 1 |
| 1998 | Ohio State | 12 | 4 | 20 | 10 | 10 | 2 | 11 | 1 | 9 | 0 | 0 | 1 | 17 | 0 |
| 1999 | Ohio State | 9 | 0 | 5 | 2 | 3 | 0 | 0 | 0 | 0 | 0 | 1 | 0 | 0 | 0 |
| 2000 | Ohio State | 11 | 0 | 8 | 4 | 4 | 1 | 6 | 1 | 6 | 1 | 0 | 0 | 0 | 0 |
| Total | - | 48 | 8 | 47 | 26 | 21 | 6 | 38 | 3 | 29 | 3 | 1 | 2 | 55 | 1 |