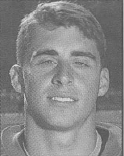 Nationality

United States

Position

WR

Height

5'10"

Weight

190

Birthday

8/10/1978

Hometown

Columbus, OH

High School

Upper Arlington

Current Team

Ohio State

Seasons

1997, 1998, 1999, 2000
Post-OSU Update: Chad Cacchio graduated from Ohio State in 2001. He earned a dental degree in 2005 and is now a practicing dentist in Columbus. (updated: Apr. 2022)
Jersey #: 13 (1999-00), 20 (1997-98)
Major: Finance (1998-00), Unknown (1997)
Weight: 190 (1998-00), 185 (1997)
2000 Media Guide: Chad Cacchio has lived out the dream of every young football player in Ohio. Growing up in the shadow of grand old Ohio Stadium, Cacchio played high school football just miles from campus and walked on at OSU in the fall of 1996. Last year, after three seasons of hard work, a never-say-die attitude, and rigorous rehabilitation from a dislocated right shoulder, Cacchio earned an athletics scholarship and wound up playing a major role in Ohio State's receiver rotation. "Chad is Mr. Right – he does everything right," Tim Salem, receivers coach, said. "He's very coachable. He has some strength and some hidden speed that allowed him to earn a scholarship last season. He adds a lot of depth to our receiving corps." Prior to last season and after recovering from numerous injuries, Cacchio, still a non-scholarship player at the time, made the switch from No. 20 to karma-filled No. 13, saying his, "luck couldn't get any worse." He couldn't have been more right.
1999: Played in all 12 games … caught four passes for 44 yards … an Academic All-Big Ten selection and an OSU Scholar-Athlete … ranked fourth among all wideouts in catches and receiving yards … made a season and career-long 19-yard grab against Wisconsin … also made catches against UCLA, Ohio University and Iowa … played a total of 40 minutes, including a season-high nine against Ohio University.
1999 Media Guide: Chad Cacchio is a young player who has worked hard from the moment he walked-on to the team back in the fall of 1996. He has worked his way up from the scout team to the travel team and was in the midst of a fine spring practice this year before dislocating his right shoulder during a practice. It was the same shoulder he had had surgery on one year ago. Cacchio fights through injuries, though, so it won't be a surprise if he is ready to go this fall. Receivers coach Chuck Stobart said "Chad was having a great spring until he got hurt. He is a smart player who studies DBs. He knows what he has to do to get open."
1998: Appeared in seven games as a sophomore in 1998 for a total of 16 minutes and earned his first varsity letter. Caught his first collegiate pass, an 11-yard reception vs. Iowa.
1998 Media Guide: Has been with the program two full years now … has battled through nagging injuries, primarily caused by a separated shoulder suffered as a true freshman … Chuck Stobart says that Chad "has good hands and he really stands out with the quality of his routes … he has a feel for the game and he is very dependable."
1997: Saw his first collegiate action with minutes in the Northwestern and Illinois games.
1996: Red-shirted the season as a true freshman.
Personal: Chad is a two-time Ohio State Scholar-Athlete honoree and an academic all-Big Ten honoree … attended and played football at Upper Arlington High School … the son of John & Debby Cacchio … born Aug. 10, 1978.
Offense
| Season | Team | G | GS | Comp | Pass Att | Pass Yds | Pass TD | Tgt | Rec | Rec Yds | Rec Avg | Rec TD | Lng | KR | KR Yds | KR TD |
| --- | --- | --- | --- | --- | --- | --- | --- | --- | --- | --- | --- | --- | --- | --- | --- | --- |
| 1997 | Ohio State | 2 | 0 | 0 | 0 | 0 | 0 | 0 | 0 | 0 | 0 | 0 | 0 | 0 | 0 | 0 |
| 1998 | Ohio State | 6 | 0 | 0 | 0 | 0 | 0 | NA | 1 | 11 | 11.0 | 0 | 11 | 0 | 0 | 0 |
| 1999 | Ohio State | 11 | 0 | 0 | 0 | 0 | 0 | 9 | 4 | 44 | 11.0 | 0 | 19 | 1 | 12 | 0 |
| 2000 | Ohio State | 10 | 0 | 1 | 1 | 1 | 0 | 32 | 20 | 390 | 19.5 | 4 | 60 | 0 | 0 | 0 |
| Total | - | 29 | 0 | 1 | 1 | 1 | 0 | 41 | 25 | 445 | 17.8 | 4 | 60 | 1 | 12 | 0 |