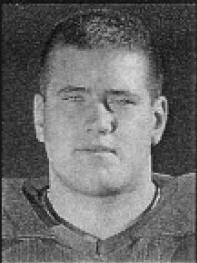 Nationality

United States

Position

OG, OT

Birthday

10/31/1975

Hometown

Logan, OH

High School

Logan

Height

6'7"

Weight

286

Current Team

Ohio State

Seasons

1994, 1995, 1996, 1997, 1998
Post-OSU Update: In 2019, Brooks Burris had a 15 pound tumor from B-Cell Lymphoma removed from his spleen. By all accounts, he recovered well and resumed his career in medical device sales. (Updated: 2021)
Major: Family Resource Management (1998), Consumer Affairs (1997), Business (1995-96), Unknown (1994)
Weight: 290 (1998), 295 (1995-97), 286 (1994)
1998 Media Guide: Has been a key reserve and frequent starter (nine times) the past three years … has started at both guard and tackle and is extremely valuable because of his versatility … will contend for a starting spot this year, probably at right tackle, where he started the first seven games last season … went in and came out of spring drills as the number one right tackle, but John Cooper still expects Burris to battle for the position … has always played well when called upon … has surprising agility to go along with his size … heads into the 1998 campaign as the Buckeyes' most experienced lineman in terms of games played with 32 … excellent attitude.
1997: Saw action in all 13 games, starting seven games at tackle, and one at left guard as a re- placement for injured regular Rob Murphy.
1997 Media Guide: Expected to take over for Eric Gohlstin on the right side … was the third tackle last year and as such backed up both Orlando Pace and Gohlstin … has 19 games under his belt and is one of the Buckeyes' most experienced linemen … has always played well when called upon in critical situations … is especially valuable because he also can play guard … has worked hard to improve his strength and is a good technician.
1996: Appeared in eight games last season and started the Rice and Pittsburgh games when Gohlstin filled in at center for injured regular Juan Porter … played a total 78 minutes in '96.
1996 Media Guide: Moved from tackle to guard in the spring and heads into the fall as the starter on the lett side … fine athlete, who has added weight and has greatly improved his strength since coming to OSU … has the speed and quickness to pull and lead a sweep … could be an enormous asset on the line because of his size … was the Buckeyes' No. 3 tackle last year backing up both All-America Orlando Pace on the left side and Eric Gohlstin on the right as the need arose … stepped in for Pace (who had gone to the locker room with an upset stomach) on the last series of the first half against Notre Dame and helped the Buckeyes march 76 yards in 12 plays for a touchdown that gave Ohio State some much needed momentum going into the locker room (OSU won the game 45-26) … played in 11 of the 13 games (all but Penn State and Tennessee) … gained valuable experience the last half of the season, playing 17 minutes against Iowa, 11
against Illinois and almost 10 against Indiana … extremely valuable because of his versatility.
1995: Appeared in 11 of the Buckeyes' 13 games and saw extensive action late in the season … came off the bench against Notre Dame when Pace went to the locker room with a stomach virus and more than held his own on a 76-yard Scoring drive just before halftime.
1995 Media Guide: Redshirted last year as a freshman … goes into the fall as the No. 2 left tackle behind Orlando Pace and a possible contender for the right tackle spot … highly regarded athlete who should be an excellent addition to the offensive line … biggest shortcoming riht now is a lack of experience … played well in practice last fall and made noticeable improvement over the course of the season.
1994: Redshirted.
High School: A second team Ohio Division I (large school) all-state selection and earned All-America recognition … was named the Ohio Southeast district offensive player of the year … saw action on both offense and defense in high school … served as team captain as a senior … played in the Big 33 All-Star Game last summer … played basketball one season and was a four-year track letterman … set a school record when he won the state indoor shot put title as a senior (56'4″) … from the same high school as Buckeye kicker Josh Jackson and OSU women's basketball standout Katie Smith … high school coach was Dale Amyx.
Personal: An honor student in high school who would like to own a business some day … hobbies include shooting pool and going to the movies (Braveheart is his all-time favorite) … his parents, Robert and Cynthia Burris, are both graduates of Malone College … his father played basketball at Malone and his older brother, Eric, currently is a cager at Rio Grande … wants to travel across the U.S. after he graduates and would like to spend time in Alaska.
Offense
| Season | Team | G | GS |
| --- | --- | --- | --- |
| 1994 | Ohio State | 0 | 0 |
| 1995 | Ohio State | 11 | 0 |
| 1996 | Ohio State | 8 | 2 |
| 1997 | Ohio State | 13 | 8 |
| 1998 | Ohio State | 12 | 12 |
| Total | - | 44 | 22 |