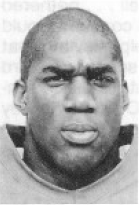 Nationality

United States

Position

ILB, ST, OLB

Birthday

6/24/1969

Hometown

Columbus, OH

High School

Bexley

Height

6'1"

Weight

218

Current Team

Ohio State

Seasons

1989, 1990, 1991, 1992
Major: Business (1992), Sociology (1991), Business (1989-90)
Weight: 220 (1992), 218 (1990-91), 198 (1989), 210 (1988)
1992 Media Guide: Played very well in the spring and won a starting spot opposite Steve Tovar … will play the "Will" linebacker, a position that requires athletic ability, speed and a nose for the football, all qualities Johnson demonstrated in the spring …   can really run and is very coachable and hard working … has had trouble gaining and maintaining weight and consequently has spent much of his career bouncing back and forth between the secondary and linebacker … the OSU coaching staff would prefer to see him at 230, but is will to make an exception because of his athletic ability … began last year at cornerback, but was moved to linebacker early in the season … played in all 12 games and had 32 tackles … eight tackles against Arizona, seven against Northwestern … also had two tackles for loss, a sack and two fumble recoveries vs. Northwestern and was named Special Teams Player of the Week by the OSU coaching staff.
1991 Media Guide: Will play the secondary for the first time this year … moved from inside linebacker to boundary corner last spring in order to shore up the Buckeyes' secondary depth … will back up Bryan Cook and be used in nickel situations … good athlete who had problems maintaining his weight at linebacker and should be more comfortable at corner … played a total of 103 minutes in 11 games last year, missing only the Indiana game … finished the season with 33 tackles … five tackles and an interception against Purdue was his top game … a good special teams player.
1990 Media Guide: Backed up MVP Derek Isaman last year and will play behind Al-America candidate Steve Tovar this year … outstanding athlete and one of those players who can help at several positions … has the best speed of the OSU linebackers and is very good at pass coverage … came to Ohio State as a running back … moved to linebacker in the spring of his freshman year … could also play in the secondary if the need arose … excellent player to have on the team because of his athletic ability and versatility.
1989: Played in eight games and recorded 11 tackles and one interception (Oklahoma State).
1988: Redshirted.
HIGH SCHOOL: Ohio's Division III Back-of-the-Year as a senior … rushed for 1,962 yards and 23 touchdowns as a senior and had career totals of 4,326 yards and 49 scores … rushed for over 300 yards in his final prep game … three-time MVP at Bexley … also played basketball and ran track.
PERSONAL: Relaxes by listening to music and playing basketball.
Defense
| Season | Team | G | GS | Tkl | Solo | Asst | TFL | TFL Yds | Sacks | Sack Yds | FF | FR | Int | Int Yds | PBU |
| --- | --- | --- | --- | --- | --- | --- | --- | --- | --- | --- | --- | --- | --- | --- | --- |
| 1989 | Ohio State | 8 | 0 | 11 | 3 | 8 | 0 | 0 | 0 | 0 | 0 | 1 | 1 | 2 | 0 |
| 1990 | Ohio State | 11 | 0 | 33 | 14 | 19 | 1 | 1 | 0 | 0 | 0 | 1 | 1 | 9 | 1 |
| 1991 | Ohio State | 11 | 0 | 32 | 22 | 10 | 3 | 9 | 1 | 1 | 0 | 3 | 0 | 0 | 0 |
| 1992 | Ohio State | 4 | 2 | 11 | 7 | 4 | 0 | 0 | 0 | 0 | 0 | 0 | 1 | 11 | 1 |
| Total | - | 34 | 2 | 87 | 46 | 41 | 4 | 10 | 1 | 1 | 0 | 5 | 3 | 22 | 2 |