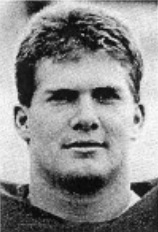 Nationality

United States

Position

ILB, OLB

Height

6'3"

Weight

220

Birthday

4/3/1967

Hometown

Fremont, OH

High School

Ross

Current Team

Ohio State

Seasons

1985, 1986, 1987, 1989
Post-OSU Update: Derek Isaman had a professional boxing career after leaving Ohio State. He won his first 12 fights before suffering his first (and only) defeat. He finished his career 15-1 (9 KOs). After sports, he began a long career in the shipping/logistics industry. (updated: Nov. 2022)
Pronunciation: EYES-uh-mun
Major: Business (1985-89)
Weight: 220 (1989). 218 (1987), 212 (1986), 210 (1985)
1989: Derek Isaman returns to football after taking the 1988 season off to try out for the U.S. Olympic boxing team, where he finished as an alternate in the heavyweight division … spent his first three years at Ohio State as an outside linebacker, but was moved to the inside last spring and is expected to start this fall … tough, physical player who in the past has demonstrated a knack for always being around the ball … very good at pass coverage … worked hard in the spring to learn the position and make up for the year layoff.
1988: Did not compete.
1987: Began the year as a starter, but a neck injury forced him out of the lineup and limited his playing time … 21 tackles in 10 games.
1987 Media Guide: An excellent all-around athlete who combines desire, speed and strength … difficult to block because of his quickness and body balance … equally strong against the run or pass.
1986: Started 12 games and recorded 46 tackles … top game was nine tackles against Illinois.
1986 Media Guide: Impressed the Buckeye coaching staff as a freshman with his intelligent, aggressive play … figures to start this year … missed half of spring practice with a fractured thumb.
1985: Played in all 12 games (99 minutes) with one start (against Wisconsin).
High School: Earned all-Ohio honors and was named to the National High School Coaches Association All-American team at outside linebacker as a senior … also played wingback and tight end as a senior … helped Ross to the state playoffs as a junior … team captain as a senior … a three-year regular playing outside linebacker on defense and various positions on offense … his team posted an 18-3-1 record the last two years … played with the North squad in the Ohio All-Star Game.
Personal: Boxed in high school and lost, by decision, to Mike Tyson in the semi-finals of the national Golden Gloves … his father, Bill, is a former amateur boxer and served as his coach … admires Sugar Ray Leonard and Lawrence Taylor.
Defense
| Season | Team | G | GS | Tkl | Solo | Asst | TFL | TFL Yds | Sacks | Sack Yds | FF | FR | Int | Int Yds | PBU | Blk | Def TD |
| --- | --- | --- | --- | --- | --- | --- | --- | --- | --- | --- | --- | --- | --- | --- | --- | --- | --- |
| 1985 | Ohio State | 12 | 1 | 23 | 5 | 18 | 1 | 4 | 0 | 0 | 1 | 0 | 0 | 0 | 1 | 0 | 0 |
| 1986 | Ohio State | 12 | 12 | 46 | 16 | 30 | 3 | 3 | 1 | 1 | 3 | 0 | 0 | 0 | 1 | 0 | 0 |
| 1987 | Ohio State | 10 | 1 | 21 | 9 | 12 | 2 | 2 | 0 | 0 | 1 | 0 | 0 | 0 | 0 | 0 | 0 |
| 1989 | Ohio State | 10 | 10 | 88 | 45 | 43 | 7.5 | 14 | 1.0 | 6 | 1 | 1 | 0 | 0 | 1 | 0 | 0 |
| Total | - | 44 | 24 | 178 | 75 | 103 | 13.5 | 23 | 2 | 7 | 6 | 1 | 0 | 0 | 3 | 0 | 0 |