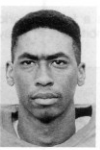 Nationality

United States

Position

CB, S

Height

6'3"

Weight

190

Birthday

11/13/1969

Hometown

Youngstown, OH

High School

Ursuline

Current Team

Ohio State

Seasons

1988, 1989, 1990, 1991, 1992
Major: Marketing (1991-92) Business (1990), Business Finance (1989)
Weight: 200 (1992), 190 (1991), 183 (1989), 190 (1988)
1992: Media Guide: Hopes to bounce back from major surgery on his left knee and reclaim his starting spot at the boundary corner … an honorable mention all-Big Ten selection … was playing his best football of his career prior to being hurt at Minnesota and missing the last three games of the season and the Hall of Fame Bowl … wound up the year with 56 total tackles, fifth-best on the team, and had 38 solos, good for third place on the OSU defense … played safety his first two years with the Buckeyes but adapted quickly when moved to corner last year … gives the Buckeyes a big, physical corner with the speed to cover one-on-one … had a career-high 11 tackles in the season opener with Arizona and also had his lone interception of the year … played at least 20 minutes in each of the eight games prior to his injury … has played in 33 of 36 games during his career and has 14 starts to his credit.
1991: Media Guide: Has spent most of his career as a safety, but will start at boundary corner this fall … switched positions in the spring and adapted easily and quickly … strong, rangy player, who should be just what the doctor ordered on the short side of the field … used in a reserve role last year, but did play in all 12 games and had starts against Purdue and Minnesota … wound up the year with 44 tackles and also had four passes broken up and two interceptions … nine tackles at Boston College, including seven solos … has a 36-inch vertical leap.
1990: Media Guide: Moves over from free to strong safety this year … will battle Jim Peel for playing time … talented athlete who started the first three games last year … good speed and goes to the ball very well for a young player … ideal blend of size and speed for his position … highly regarded by the OSU coaching staff … 4.5 speed and a 34-inch vertical jump.
1989: Played in all 12 games … 19 tackles and three passes broken up … seven tackles in the opener against Oklahoma State.
1989 Media Guide: A young impact player who could challenge for a starting spot before the year is over … impressive athlete who likes to hit … has excellent speed and goes to the ball amazingly well for a young player … has picked up his position quickly and rarely makes the same mistake twice … just needs playing time and he will play a lot.
1988: Redshirted.
HIGH SCHOOL: Broke his leg as a freshman and by his own choice decided not to play football the next two years … took up the sport again as a senior and won honorable mention all-state honors as a defensive back .. . calls Ursuline's win over Cincinnati Moeller his senior year his most memorable football moment … also played backup quarterback as a senior … played three years of basketball and earned four letters in track.
PERSONAL: Enjoys playing basketball, chess and 'tinkering around" with computer programming.
Defense
| Season | Team | G | GS | Tkl | Solo | Asst | TFL | TFL Yds | Sacks | Sack Yds | FF | FR | Int | Int Yds | PBU |
| --- | --- | --- | --- | --- | --- | --- | --- | --- | --- | --- | --- | --- | --- | --- | --- |
| 1989 | Ohio State | 12 | 3 | 19 | 8 | 11 | 0 | 0 | 0 | 0 | 0 | 0 | 0 | 0 | 3 |
| 1990 | Ohio State | 11 | 2 | 46 | 31 | 15 | 1 | 5 | 0 | 0 | 0 | 1 | 2 | 16 | 4 |
| 1991 | Ohio State | 8 | 7 | 56 | 38 | 18 | 2 | 12 | 1 | 5 | 1 | 0 | 1 | 16 | 2 |
| 1992 | Ohio State | 12 | 9 | 70 | 50 | 20 | 2 | 3 | 0 | 0 | 0 | 0 | 3 | 50 | 5 |
| Total | - | 43 | 21 | 191 | 127 | 64 | 5 | 20 | 1 | 5 | 1 | 1 | 6 | 82 | 14 |