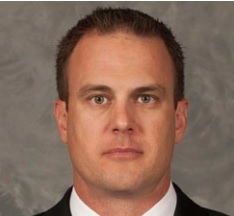 Nationality

United States

Past Teams

Ohio State
Birthday: June 2, 1975
College: Cal Lutheran, 1997 (BS), University of Texas, 2000 (MS)
OSU Coaching History:
2012-14: Offensive Coordinator / Quarterbacks
2014 Media Guide: Tom Herman has helped develop record-setting and explosive offenses in each of his nine seasons as an offensive coordinator, including his two seasons in the position of OC/quarterbacks coach at Ohio State University.
After leading the Big Ten in scoring in 2012 at 37.2 points per game and ranking 10th nationally in rushing at nearly 250 yards per game, Ohio State's offense under Urban Meyer, Herman and Co. went to a new level in 2013 by ranking third nationally in scoring with 45.5 points per game and fifth in rushing with 308.6 yards per game.
2012 Media Guide: Tom Herman, the offensive coordinator and quarterbacks coach at Iowa State University the past three years, and before that an offensive coordinator/quarterbacks coach for record-setting offenses at Rice University, is in his first season as Ohio State's offensive coordinator and quarterbacks coach.
"Tom Herman has one of the bright young minds in college football," Ohio State coach Urban Meyer said of his coach who is, indeed, intellectual enough to be a member of the national high-IQ society, MENSA. "His philosophies are very similar to those of my own."
Herman's 2011 Iowa State offense put up 44 points in a triple-overtime win over Iowa and tallied 37 in a double-overtime upset of then-undefeated and No. 2 Oklahoma State. The offense averaged nearly 390 total yards per game.
"To work with and for Coach Meyer is an exciting opportunity for me," Herman said. "I am really looking forward to working with him and learning about his offensive systems."
Herman has 11 years experience as a collegiate coach, including seven seasons as an offensive coordinator/quarterbacks coach, and 13 when his two seasons – 1999-2000 – as a graduate assistant at Texas are included. He coached four years at Sam Houston State (2001-04), serving as receivers coach and special teams coordinator. He also spent two years at Texas State (2005-06) and two years at Rice (2007-08) as offensive coordinator and quarterbacks coach.
While his Texas State offenses led the Southland Conference in total offense each season, his time at Rice was particularly notable. His offenses broke over 40 school records and in his second season the Owls won 10 games and went to a bowl for the first time since 1954.
Furthermore, Rice ranked in the Top 10 nationally in 2008 in passing offense (5th; 327.8), scoring offense (T8th; 41.6) and total offense (10th; 472.3). Two Rice receivers had more than 1,300 yards receiving that year, tight end James Casey had 111 catches and quarterback Chase Clement was the Conference USA MVP.
Herman was born in Cincinnati and still has family there, although he was raised in Simi Valley, Calif. He played collegiately at California Lutheran, graduating in 1997 with a degree in business administration. He has a master's in education from the University of Texas.
Herman and his wife, Michelle, have a daughter, Priya, and a son, Maddock.