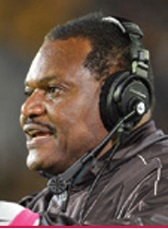 Nationality

United States

Current Team

Ohio State
College: Elizabeth City College, 1973
OSU Coaching History:
2014-15: Assistant Head Coach / Defensive Line Coach
2015 Media Guide: Highly regarded defensive line coach Larry Johnson is in his second season with the Ohio State football program. During his first season with the Buckeyes, he helped the team win Big Ten, Sugar Bowl and national championships while two of his student-athletes – Joey Bosa and Michael Bennett – earned first team All-America honors. Bosa was a consensus All-American and was named the Big Ten Conference's defensive and defensive lineman of the year as well.
2014 Media Guide:  Larry Johnson, the highly regarded defensive line coach who has spent the past 18 years coaching talented student-athletes and recruiting the east coast as a member of the Penn State University coaching staff, was named assistant head coach and defensive line coach at The Ohio State University in early January, 2014.
Johnson, who grew up in Williamston, N.C., and is a 1973 graduate of Elizabeth City (N.C.) State University with a degree in health and physical education, has coached along the defensive line for 18 years at Penn State, including the last 14 seasons (2000-13) overseeing the entire unit. He spent his first four seasons at Penn State – 1996-99 – as defensive ends coach and special team's coordinator.
Ohio State is Johnson's second collegiate coaching stop. His career includes 20 years of high school coaching in Maryland and Virginia.
Johnson's list of coaching accomplishments while at Penn State is impressive:
• Six of his defensive linemen were first-round NFL draft picks, including No. 1 overall pick Courtney Brown in 2000 and also featuring Jimmy Kennedy (2002), Michael Haynes (2003), Tamba Hali (2006), Jared Odrick (2010) and Aaron Mabin (2009).
• Seven of his defensive linemen achieved first-team All-American status (the six in the first note above and Devon Still).
• PSU defensive linemen have earned 22 Academic All-Big Ten Conference honors.
• Three of his position players have been named Academic All American (Tim Shaw in 2006 and Pete Massaro in 2010 and 2012).
• Fifteen Nittany Lion defensive linemen have been named first team all-Big Ten Conference.
• No Big Ten team (since 1996) has had as many players from one position earn Big Ten Defensive Player of the Year honors than the five Nittany Lion honorees hat Johnson mentored.
• And in 2005-06 Rivals.com named Johnson its national college football recruiter of the year.
In addition, he coached on a Penn State defense that led the nation in sacks between 2005 and 2009 and was No. 5 nationally in rushing defense from 2004-10. And between 1996 and 2013 Penn State's
defense was a Big Ten Conference statistical champion 14 times, including four times in quarterback sacks and three times in scoring defense.
Johnson spent the first 20 years of his career as a highly successful high school coach. Six times chosen as the Washington Metropolitan Area coach of the year, he guided McDonough High School in
Pomfret, Md., to three Maryland state championships and to a 139-36 record from 1975-91, and he also was coach two seasons (1992-93) at T.C. Williams High School in Alexandria, Va. He started his coaching career in 1974 at Lackey High School in LaPlata, Md.
As a player, Johnson was an NAIA All-American and all-conference performer at Elizabeth City State University. He was inducted into the school's sports Hall of Fame in 1990. He played one year in the NFL, with the Washington Redskins in 1973.
Johnson and his wife, Christine, are the parents of two sons – Larry Jr. and Tony – and a daughter, Teresa. Larry Jr. and Tony both played football at Penn State with Larry Jr. rushing for a school record 2,087 yards in 2002 and later becoming a first-round draft pick of the Kansas City Chiefs and a two-time Pro Bowl selection. Teresa played softball for the Nittany Lions.