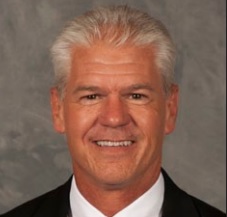 Nationality

United States

Past Teams

Ohio State
College: Dayton, 1983 (BS), Wright State, 1996 (MS)
OSU Coaching History:
2013-15: Cornerbacks & Special Teams Coordinator
2012: Cornerbacks
2015 Media Guide: The 2015 season will be Coombs' 33rd in coaching, a tenure that includes a highly
successful 16-year run as head coach at Colerain High School, located just outside of Cincinnati. As successful a coach as he was in high school, Coombs likes the collegiate coaching experience.
"This team is full of Ohio kids wanting to win a national championship for their state school," Coombs said upon being hired. "It's hard for me to imagine having a better opportunity than this."
Coombs and his charges realized winning a national championship in 2014 as the Buckeyes tied an NCAA record for wins in a season with 14 and were national champions, Sugar Bowl champions and the champion of the Big Ten Conference.
2013 Media Guide: Hard to imagine having a better first season than Coombs had in 2012. Not only did the enthusiastic and energetic Ohioan help coach Ohio State to a 12-0 record, he also coached the only pair of cornerbacks from one school in the nation – sophomore Bradley Roby and senior Travis Howard – to first-team all-conference honors. Roby, in fact, led the nation with 1.73 passes defended per game, a total that included a school-record-tying 17 pass break-ups and was named a first-team ESPN.com All-American. Howard led the Big Ten in interceptions with four and .33 per game.
2012 Media Guide: Kerry Coombs, an assistant coach at the University of Cincinnati the past five years and before that an outstanding Ohio high school head coach at Colerain, is in his first season in charge of the Buckeye cornerbacks.
Coombs, associate head coach at UC in addition to his responsibilities as the team's defensive backs coach and special teams coordinator, follows the trend of Ohio State assistants who are not only considered terrific coaches, but are coaches with ties to the state of Ohio.
Coombs grew up in Colerain, graduated from Colerain High School in 1979 and from the University of Dayton in 1983, and has a master's degree from Wright State (1996). He was a high school coach in Ohio for 24 seasons, including a highly successful 16-year run as head coach at Colerain, located just outside of Cincinnati.
"Kerry Coombs had an incredible record of achievement as a high school head coach and he
is highly regarded as one of the great coaches in Ohio high school football history," Meyer said.
"I have watched him coach in high school and at the University of Cincinnati and I have great
respect for the way he works. He is a strong recruiter. He knows defense and special teams. And
he is an excellent teacher."
Coombs has 29 years of coaching behind him as he enters the 2012 season with the Buckeyes, including five years with the Bearcats. Hired away from Colerain by Brian Kelly after the 2006 high school season, Coombs was part of Kelly's three Cincinnati teams that were 33-7 overall and played in BCS bowl games after the 2008 (Orange Bowl vs. Virginia Tech) and 2009 (Sugar Bowl vs. Florida) seasons.
After Kelly left UC for Notre Dame after the 2009 season, Coombs stayed on new UC coach Butch Jones' staff. After an initial 4-8 season under Jones, Cincinnati went 10-3 this past season with a Liberty Bowl win over Vanderbilt.
While at UC Coombs mentored three NFL draft picks: second-team All-American and UC career interception leader Mike Mickens (Dallas Cowboys), 2007 NCAA interception leader DeAngelo Smith (Dallas Cowboys) and all-BIG EAST performer Brandon Underwood (Green Bay Packers). He also coached Haruki Nakamura in 2007, his first year at UC and a year the Bearcats led the nation with 26 interceptions.
Coombs, a member of the University of Dayton's 1980 Division III national championship team while studying secondary education, charged through the high school ranks after his playing days were over. He spent two seasons as an assistant at Greenhills High School and four at Lakota before taking over as head coach at Loveland in 1989. Two years later – 1991 – he took over at Colerain.
In 16 seasons at Colerain Coombs' teams went to 10 state playoffs, including five state semifinal berths. His 2004 team won the Division I state championship with a 15-0 mark that included a record-setting title game win over Canton McKinley, 50-10. It was – and still is – the most points scored and the largest margin of victory in the Ohio "big school" state title game.
Colerain won seven consecutive Greater Miami Conference championships under Coombs from 2000-06, and Coombs had a 161-34 record as head coach. His overall head coaching record through 18 seasons is 167-48.
Coombs sent five of his Colerain players to Ohio State, including Jefferson Kelley in the mid-1990s and most recently Connor and Spencer Smith and Tyler Moeller.
Coombs and his wife, Holly, are the parents of three grown children: son Brayden played collegiately at Miami (Ohio) and is currently on staff with the Cincinnati Bengals; daughter Cortney played soccer at Ball State; and son Dylan is a freshman football player and in the Lindner Honors Plus business program at the University of Cincinnati.