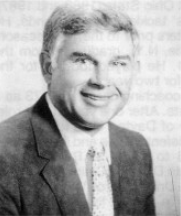 Nationality

United States

Current Team

Ohio State
1990 Media Guide: Jim Colletto is in his third year on the Ohio State staff. In addition to being the assistant head coach and offensive coordinator, Colletto also coaches the Buckeyes' tackles and tight ends.
Prior to coming to OSU, Colletto spent three years as the offensive coordinator at Arizona State on John Cooper's staff. He accompanied Cooper to Columbus in the winter of 1988.
Colletto has coached, too, at Purdue, UCLA and Cal State-Fullerton. He was offensive coordinator at Purdue for three years (1982-84) and head coach at Fullerton between 1975 and 1979. In between those two stops, he spent three years at UCLA, his alma mater (1980-82), where he coached the offensive tackles and tight ends.
Colletto, widely recognized as one of the game's top offensive strategists, is a native of Monterey, Calif. He attended UCLA and played football and baseball for the Bruins. He led UCLA in rushing as a sophomore fullback in 1963 and was captain of the 1965 team that defeated Michigan State in the Rose Bowl. He was a two-time aill-league pick in baseball.
Colletto graduated from UCLA in 1967. After two years at his alma mater as an assistant coach, he spent one year at Brown, two at Xavier of Ohio and three at Pacific before becoming head coach at Cal State-Fullerton.
Colletto and his wife, Suzanne, have three children: Dawn, Dan and Patrick.