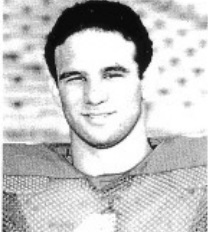 Nationality

United States

Position

FL, ST, TB

Birthday

7/6/1964

Hometown

Mayfield, OH

High School

Mayfield

Height

6'0"

Weight

186

Past Teams

Ohio State

Seasons

1984, 1985
Pronunciation: Luh-NEECE
Major: Pre-law (1985), Pre-med (1984)
Weight: 186 (1985), 190 (1984)
1985 Media Guide: The top punt returnee on the team … his sure hands and the ability to get open make him a difficult man to cover … an honor student throughout college.
1984: Came into his own as a pass receiver with 41 catches for 618 yards … started all 12 games and played 301.5 minutes … his diving, twisting reception of a third and 12 pass while double-covered against Michigan, was one of the memorable receptions in Ohio Stadium history … averaged 9.8 yards per try on six carries, scoring twice.
1984 Media Guide: Caught six passes in the 1984 Spring Game in Dayton … has earned a starting job at flanker this fall … an honor student in pre-med … has the ability to get open and make great catches.
1983: Lettered as a combination tailback and flanker.
1982: Lettered as a freshman as a member of the specialty teams and as a reserve tailback.
High School: Came to Ohio State as a tailback, where he ran for 1,417 yards and scored 12 touchdowns for Mayfield High and was all-Ohio.
Offense
| Season | Team | G | GS | Rush Att | Rush Yds | Rush Avg | Rush TD | Rec | Rec Yds | Rec Avg | Rec TD | Lng | Fum | Lost | FR | KR | KR Yds | KR TD | PR | FC | PR Yds | PR Avg | PR TD |
| --- | --- | --- | --- | --- | --- | --- | --- | --- | --- | --- | --- | --- | --- | --- | --- | --- | --- | --- | --- | --- | --- | --- | --- |
| 1984 | Ohio State | 12 | 12 | 6 | 59 | 9.8 | 2 | 41 | 618 | 15.1 | 1 | 37 | 3 | 2 | 1 | 1 | 17 | 0 | 13 | 7 | 78 | 6.0 | 0 |
| 1985 | Ohio State | 12 | 12 | 3 | 17 | 5.7 | 0 | 31 | 552 | 17.8 | 5 | 75 | 0 | 0 | 0 | 0 | 0 | 0 | 0 | 0 | 0 | 0 | 0 |
| Total | - | 24 | 24 | 9 | 76 | 0 | 2 | 72 | 1170 | 0 | 6 | 75 | 3 | 2 | 1 | 1 | 17 | 0 | 13 | 7 | 78 | 0 | 0 |
Defense
| Season | Team | G | GS | Tkl | Solo | Asst | FR | KR | KR Yds | KR TD | PR | FC | PR Yds | PR Avg | PR TD |
| --- | --- | --- | --- | --- | --- | --- | --- | --- | --- | --- | --- | --- | --- | --- | --- |
| 1984 | Ohio State | 12 | 12 | 2 | 2 | 0 | 1 | 1 | 17 | 0 | 13 | 7 | 78 | 6.0 | 0 |
| 1985 | Ohio State | 12 | 12 | 1 | 1 | 0 | 0 | 0 | 0 | 0 | 0 | 0 | 0 | 0 | 0 |
| Total | - | 24 | 24 | 3 | 3 | 0 | 1 | 1 | 17 | 0 | 13 | 7 | 78 | 0 | 0 |