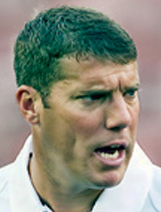 Nationality

United States

Past Teams

Ohio State
College: Drake, 1996
OSU Coaching History:
2014-15: Co-Defensive Coordinator / Safeties Coach
2015 Media Guide: Chris Ash was hired by Urban Meyer in January 2014 to help a proud Ohio State
defense return to its status among the nation's elite after it had fallen to a ranking of 112 in pass defense in 2013 and to additional rankings of 83rd in pass efficiency and 47th in total defense.
One year later – a year that included Ohio State winning the national championship plus Sugar Bowl and Big Ten Conference championships – and Ash and his defensive coaching peers had the Buckeye defenders back to their "Silver Bullet" status with national rankings of 13th in efficiency, 19th in total defense and 29th against the pass.
In addition, the Buckeyes ranked fourth nationally with 24 interceptions, a total that is topped by only one previous Ohio State team.
2014 Media Guide: Chris Ash was named Ohio State's co-defensive coordinator and safeties coach in early January 2014 by head coach Urban Meyer. Ash has coached collegiately for 18 years, including 13 years in the defensive secondary and with four years as a coordinator.
Ash, a Midwesterner who grew up in Iowa, has spent 15 years coaching in his home state and in the state of Wisconsin. The defensive coordinator and secondary coach at Arkansas last season and with the same responsibilities in 2011 and 2012 at Wisconsin, Ash viewed the Ohio State opportunity as a once-in-a career move.
"I was attracted to this position because it is Ohio State," Ash said, "and I had to wonder if I ever would have this opportunity again. This is one of the top five college football programs in the country. It has tremendous history and tradition, and it is a great academic institution."
Ash, who is 40, helped improve Arkansas' pass defense by more than 50 yards in his one season in Fayetteville, with the Razorbacks' defense finishing 72nd nationally in passing yards allowed this year after ranking 113th in 2012.
The two Wisconsin defenses Ash served as defensive coordinator for were solid. The 2011 unit led the Big Ten (conference games only) in total defense and pass defense efficiency, and it ranked fourth nationally in fewest passing yards allowed (163.6), 13th in scoring (19.0) and 15th in total defense (316.4).
Ash's 2012 defense ranked 15th nationally in total defense (322.5), 17th in scoring (19.1), 18th in fewest passing yards allowed (193.6), 22nd in pass efficiency and 24th against the run (128.9).
Prior to his three-year run at Wisconsin, Ash spent eight seasons over two different stints at Iowa State University, including the 2009 season when Ohio State offensive coordinator/quarterback coach Tom Herman was also on the staff. Ash progressed from graduate assistant with the Cyclones in 2000-01 to defensive backs coach for a total of six seasons.
After Cyclone head coach Dan McCarney resigned following the 2006 season, Ash spent two seasons at San Diego State University (2007-08) as defensive backs coach and recruiting coordinator. He returned to Iowa State in 2009.
Ash has produced numerous instructional videos, including a three video series – "Aggressive 4-3 Defense" – that includes shutting down the passing game and stuffing the run segments.
"To me, to be successful, I think you have to be detailed," Ash said. "You have to be able to coach and teach the fundamentals of the game, and that's how you develop players. You have to have a consistency with how you prepare yourself so you can prepare them and then get them to play hard."
Ash, a 1996 graduate of Drake University with a degree in secondary education, was a defensive back for the Bulldogs. His career was cut short by injuries, including a knee injury that ended his senior season prematurely but ultimately gave him his first opportunity to coach as a student assistant.
Ash has his master's degree from Iowa State (education). He is married to the former Doreen Buttery and has two children: a son, Tanner; and a daughter, Jacey.