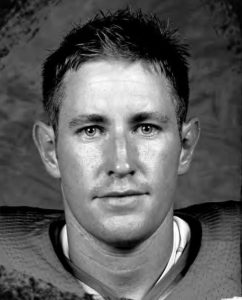 Nationality

South Africa

Position

K

Height

5'10"

Weight

190

Birthday

5/2/1979

Hometown

Durban

High School

Westville Boys

Past Teams

Ohio State

Seasons

2005, 2006, 2007, 2008
Post-OSU Update: Ryan Pretorius did not play in the NFL after leaving Ohio State. He fought an MMA match in 2016 and currently works for a baking supply company. (updated: Jun. 2023)
Major: Marketing (2008), Business (2005-07)
Weight: 169 (2008), 180 (2006-07), 190 (2005)
2008 Media Guide: Another of Ohio State's talented kickers … has 50-yard range and is accurate … at 29, is the oldest player on the Ohio State squad,
2007: Won the job as the Ohio State placekicker during preseason camp … Lou Groza Award semifinalist … 48-49 on PAT for the season … 18-23 on field goals, with four blocked … three field goals made at Purdue … 50-yard field goal at Penn State was career long, one of three FG against the Lions … special units player of week: Youngstown State, Penn State … special teams dog tags: Youngstown
State, Akron, Northwestern, Purdue, Kent State, Penn State … Big Ten all-academic … second-year letterman.
2007 Media Guide: Is in his fourth year at Ohio State.
2006: Attempted two field goals, both of which came from more than 50 yards out … connected on a 52-yarder vs. Cincinnati after missing a 51-yard attempt in the season-opener vs. Northern Illinois … kicked off 19 times during the regular-season, none of which went out of bounds and three of which were touchbacks.
2006 Media Guide: Looks to be the heir apparent to Josh Huston in terms of field goals and extra points … has the unenviable task of following in the footsteps of Mike Nugent (2002-04) and Huston (2005), two of the better place-kickers in Ohio State history … has 50-yard range and is very accurate … plays with a quiet confidence … could also handle kickoffs, but is expected to focus on field goals and PATs, at least to start the season … is the oldest player on the Ohio State squad … played in two games last year – Indiana and Northwestern … was on vacation in France and decided to visit the United States and explore the possibility of playing football on the collegiate level … made a video of himself and sent it to numerous schools at the suggestion of former NFL player Gary Anderson, who is also from Durban and is a friend of the family … was offered a spot as a preferred walk-on and enrolled in the Fall of 2004.
2005: Made his lone two appearances of the year against Indiana and Northwestern and had a kickoff in each game – neither was returned.
2004: Worked with the kickers, but did not see any game action.
High School: Played soccer and rugby and ran track (the 800) … was the captain of the soccer and rugby teams … received honors in both soccer and rugby … has literally played rugby all over the world.
Personal: Is the son of Denny and Terry Pretorius … is married to the former Amy Gold (will celebrate their third anniversary in December 2006) … has a younger sister, Julie, who lives just outside London … enjoys all sports (rugby, tennis, skiing or just about anything with a ball) … nickname is "Zulu" … favorite subject is Geography.
Offense
| Season | Team | G | GS | XP | XPA | XP % | FG | FGA | FG % |
| --- | --- | --- | --- | --- | --- | --- | --- | --- | --- |
| 2006 | Ohio State | 8 | 0 | 2 | 2 | 100.0 | 1 | 2 | 50.0 |
| 2007 | Ohio State | 13 | NA | 48 | 49 | 98.0 | 18 | 23 | 78.3 |
| 2008 | Ohio State | NA | NA | 38 | 39 | 97.4 | 15 | 19 | 78.9 |
| Total | - | 21 | NA | 88 | 90 | 97.8 | 34 | 44 | 77.3 |
Defense
| Season | Team | G | GS | Tkl | Solo | Asst |
| --- | --- | --- | --- | --- | --- | --- |
| 2006 | Ohio State | 8 | 0 | 0 | 0 | 0 |
| 2007 | Ohio State | 13 | NA | 2 | 2 | 0 |
| 2008 | Ohio State | NA | NA | 0 | 0 | 0 |
| Total | - | 21 | NA | 2 | 2 | 0 |