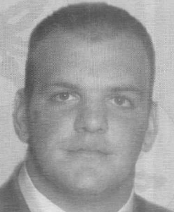 Nationality

United States

Position

TE, OG

Height

6'5"

Weight

295

Birthday

12/14/183

Hometown

Clarksburg, WV

High School

Byrd

Current Team

Ohio State

Seasons

2002, 2003, 2004, 2005
Major: History (2004-05), Undeclared (2002-03)
Jersey #: 81 (2005), 66 (2003-04), 81 (2002)
Weight: 285 (2005), 295 (2003-04), 265 (2002)
2005 Media Guide: Made the difficult decision in the spring to forgo the remainder of his playing career because of a chronic stinger condition … will work this year as a student coach … came to Ohio State as a tight end, moved to guard as a redshirt freshman in 2003 and back to tight end last year when injuries weakened that position.
2004: Saw his first game action last year and played in 10 games … played significant minutes at tight end during the last half of 2004.
2004 Media Guide: Hopes to get his first taste of playing time this year … and while it should be at guard, it could be at tight end … was recruited at the latter position, but was moved to guard last fall because of his size and power … suffered a neck and shoulder injury shortly after making the switch and never really had the opportunity to learn the position … was able to practice in the spring, however, and should be full-go in the fall … whether or not he stays at guard or moves back to tight end will depend on the play of incoming freshmen Chad Hoobler and Roy Nichols, both of whom are highly regarded tight end prospects … coaches liked his guard play in the spring, but could be forced to move back to tight end to get more numbers there … has good upper body strength.
2003: Made the move from tight end to guard, but suffered a pinched nerve in the neck and shoulder that limited his number of reps … did not play in any games.
2003 Media Guide: Robert "R.J." Coleman heads into fall as one of the backups for veteran Bryce Bishop at right guard … promising young player who is coming off a good spring … came to Ohio State as a highly touted tight end, but the coaches felt he was better suited to an inside position and moved him to guard following winter conditioning … is a fine athlete with excellent size and strength and has demonstrated in a short period of time that he can be an effective player on the inside … should get his first taste of playing time this year … hopes to establish himself as the Buckeyes' third guard … coaches like his tenacity.
2002: Redshirted and did not see any game action.
High School: Did not start playing organized football until his junior year, but wasted precious little time developing into one of the top tight end prospects in America … won all-state honors as a senior and was ranked by SuperPrep as the top prospect in the state of West Virginia … that publication also rated him as the fourth best tight end prospect in the country … ranked as the sixth best tight end by Rivals.com … crushing blocker, who averaged 28 yards per catch as a junior, with five of those going for touchdowns … also played defensive end and tackle and logged 125 tackles and nine sacks … state shot put champion as a junior … also plays basketball … high school coach – Richard Iaquinta.
Personal: Parents are Christopher Coleman and Kathy Harris … has one brother, Travis Coleman, and three sisters, Ashley Bosserdet, and Caroline Coleman … born Dec. 14, 1983.
Offense
| Season | Team | G | GS | Rec | Rec Yds | Rec TD | Lng | FR |
| --- | --- | --- | --- | --- | --- | --- | --- | --- |
| 2004 | Ohio State | 10 | 0 | 0 | 0 | 0 | 0 | 0 |
| Total | - | 10 | 0 | 0 | 0 | 0 | 0 | 0 |