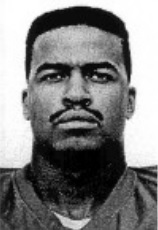 Nationality

United States

Position

ILB

Birthday

7/12/1967

Hometown

Detroit, MI

High School

Mackenzie

Height

6'1"

Weight

215

Current Team

Ohio State

Seasons

1986, 1987, 1988, 1989
Major: Sociology (1989), Undeclared (1988), Political Science (1986-87)
Weight: 215 (1989), 220 (1988), 224 (1987), 222 (1986)
1989 Media Guide: Coming off an excellent year in which he was thrust into the starting lineup after Andy Gurd was injured … will contend with Gurd for the starting spot on the strong side … OSU's most experienced returning linebacker … finished the season with 70 tackles, fourth on the team, and logged 194 minutes of playing time (compared to 24 minutes his first two years combined) … has good mobility and lateral movement.
1988: Started seven games … had 11 tackles against Illinois in his first start and had a career-high 13 stops against Wisconsin … also had 12 tackles against Michigan.
1988 Media Guide: A good spring vaulted him into contention for a starting spot … probably the best speed of the inside linebackers … goes to the ball well and is a jarring tackler … played in all 11 games last year and earned a letter … had three tackles, including a sack, against West Virginia … OSU coaches expect great things.
1987: Played in 11 games, chiefly with the specialty teams.
1986: Appeared in seven games and had three tackles and an interception.
High School: Won all-state honors as a senior at Mackenzie, the same school that produced form OSU All-American Pepper Johnson … played tailback on offense and linebacker on defense … 105 tackles as a senior … a three-year starter who played middle linebacker on defense and guard on offense.
Personal: Hobbies include playing chess and racquetball … admires Jim Brown and Lawrence Taylor … favorite movie is The Killing Fields … from a family of seven.
Defense
| Season | Team | G | GS | Tkl | Solo | Asst | TFL | TFL Yds | Sacks | Sack Yds | FF | FR | Int | Int Yds | PBU | Blk | Def TD |
| --- | --- | --- | --- | --- | --- | --- | --- | --- | --- | --- | --- | --- | --- | --- | --- | --- | --- |
| 1986 | Ohio State | 7 | 0 | 3 | 2 | 1 | 0 | 0 | 0 | 0 | 0 | 0 | 1 | 12 | 0 | 0 | 0 |
| 1987 | Ohio State | 11 | 0 | 3 | 2 | 1 | 1 | 13 | 1 | 13 | 0 | 0 | 0 | 0 | 0 | 0 | 0 |
| 1988 | Ohio State | 9 | 7 | 70 | 28 | 42 | 2.0 | 20 | 1.0 | 17 | 0 | 0 | 0 | 0 | 2 | 0 | 0 |
| 1989 | Ohio State | 5 | 2 | 18 | 8 | 10 | 0.5 | 4 | 0.5 | 4 | 0 | 0 | 1 | 0 | 0 | 0 | 0 |
| Total | - | 32 | 9 | 94 | 40 | 54 | 3.5 | 37 | 2.5 | 34 | 0 | 0 | 2 | 12 | 2 | 0 | 0 |