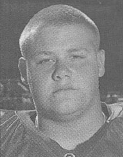 Nationality

United States

Position

LS, C, OG

Birthday

5/9/1979

Hometown

Maumee, OH

High School

Maumee

Height

6'2"

Weight

285

Current Team

Ohio State

Seasons

1997, 1998, 1999, 2000, 2001
Major: Sport & Leisure Studies (1998-01), Unknown (1997)
Weight: 290 (2001), 285 (1999-00)
2001 Media Guide: Mike Jacobs is a former walk-on who was converted to scholarship prior to last year … currently listed as the Buckeyes' No. 2 center … also snaps for field goals and extra points … has worked hard to earn a spot on the depth chart … his father, Mike Jacobs, is a former Ohio State assistant coach and offensive coordinator.
2000 Season: Fulfilled a lifelong dream when he was awarded a scholarship at the start of the season … played in all 12 games, primarily as the long snapper, but did see action at center against Fresno State and Iowa.
2000 Media Guide: Everyone could learn a lesson in attitude from Mike Jacobs. Now in his fourth year in the OSU program, Jacobs has learned a number of positions and, in the words of the OSU coaching staff, "has done everything we've asked of him." Jacobs has stood out as a long-snapper n the past and may get a chance to excel at that position with the departure of Kevin Houser to graduation. "Mike is a young man with a lot of willingness and a lot of want. He wants to do things really well," George Belu, offensive line coach, said.
1999 Season: Played in three games … logged a total of five minutes, including a season-high three minutes against Iowa.
1999 Media Guide: Mike Jacobs is a hard-working young man who is entering his third full year with the Ohio State Buckeyes. He has learned a number of offensive line positions, but has stood out as a long snapper and backup center. Jacobs made the travel squad last year as a backup long snapper when Kevin Houser's wrist was still in question.
1998 Season: Managed to see his first collegiate action, playing in three games for a total of five minutes.
1998 Media Guide: Entering his second full year as a member of the team … learning a number of offensive line positions, but stood out this spring at center, where he also displayed some long snapping capabilities … could become a valuable backup to Kevin Houser in the area of snapping.
1997 Season: Redshirted the 1997 season as a true freshman.
Personal: Is the son of Ohio State offensive coordinator and offensive line coach Mike Jacobs and Judy Jacobs … played high school football at Maumee High School … born May 9, 1979.
Offense
| Season | Team | G | GS | FR |
| --- | --- | --- | --- | --- |
| 1998 | Ohio State | 3 | 0 | 0 |
| 1999 | Ohio State | 2 | 0 | 0 |
| 2000 | Ohio State | 12 | 0 | 0 |
| 2001 | Ohio State | 12 | 0 | 0 |
| Total | - | 29 | 0 | 0 |
Defense
| Season | Team | G | GS | Tkl | Solo | Asst | FR |
| --- | --- | --- | --- | --- | --- | --- | --- |
| 1998 | Ohio State | 3 | 0 | 0 | 0 | 0 | 0 |
| 1999 | Ohio State | 2 | 0 | 0 | 0 | 0 | 0 |
| 2000 | Ohio State | 12 | 0 | 1 | 1 | 0 | 0 |
| 2001 | Ohio State | 12 | 0 | 0 | 0 | 0 | 0 |
| Total | - | 29 | 0 | 1 | 1 | 0 | 0 |