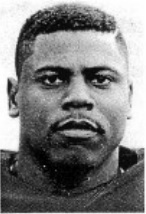 Nationality

United States

Position

ST, OLB

Birthday

6/23/1965

Hometown

Dayton, OH

High School

Dunbar

Height

6'3"

Weight

230

Current Team

Ohio State

Seasons

1985, 1986, 1987, 1988
Jersey #: 99 (1985-88), 38 (1984)
Major: Recreation Education (1988), Industrial Technology (1984)
Weight: 230 (1988), 232 (1987), 229 (1986), 220 (1985), 210 (1984)
1988 Media Guide: Ohio State's best defensive player and a definite All-American candidate … a tremendous athlete capable of making the spectacular play … injury free for the first time last year, he started all 11 games and became a defensive force … finished the year with 71 tackles, including six for losses … had 11 tackles at Illinois, but his best performance of the year was at LSU, where he had eight tackles, an interception and also forced a fumble … played briefly in nine games as a sophomore, most of his time coming in the Cotton Bowl, where he recovered two fumbles filling in for injured regular Derek Isaman … redshirted in 1984 … played a total of nine minutes in 1985, mostly with the specialty teams … runs a 4.7 forty and has a 31-inch vertical leap … three interceptions last year.
1986: Played briefly in eight games during the regular 1986 season and came into his own in the Cotton Bowl, when, after Isaman was injured, stepped in a played solid football … won a letter for his contribution in the Cotton Bowl game.
1986 Media Guide: A series of injuries have kept this gifted athlete from realizing his potential.
1985: Injuries restricted his play in 1985 to six games, chiefly with the specialty teams.
1984: Enrolled at Ohio State in the fall of 1984, but a series of minor injuries kept him out of action … his bad luck continued in spring practice when a shoulder dislocation necessitated surgery … Buckeye coaches consider him an excellent athlete who needs only practice and concentrated effort to become an outstanding football player.
High School: Attended Dayton Roth as a freshman and sophomore … a high school All-American in basketball and track … started on the Roth team that won the state basketball crown in 1982 and for the 1984 Dunbar team that was runner-up … returned a fumble 77 yards in a state playoff game … 11 interceptions as a senior … high school teammate of Keith Byars … a sprinter on the Dunbar track team.
Personal: Likes "old" movies," especially westerns and gangster flicks.
Defense
| Season | Team | G | GS | Tkl | Solo | Asst | TFL | TFL Yds | Sacks | Sack Yds | FF | FR | Int | Int Yds | PBU | Blk | Def TD |
| --- | --- | --- | --- | --- | --- | --- | --- | --- | --- | --- | --- | --- | --- | --- | --- | --- | --- |
| 1985 | Ohio State | 6 | 0 | 2 | 2 | 0 | 0 | 0 | 0 | 0 | 0 | 0 | 0 | 0 | 0 | 0 | 0 |
| 1986 | Ohio State | 9 | 0 | 13 | 5 | 8 | 0 | 0 | 0 | 0 | 0 | 0 | 0 | 0 | 0 | 0 | 0 |
| 1987 | Ohio State | 11 | 11 | 71 | 39 | 32 | 6 | 21 | 0 | 0 | 1 | 2 | 3 | 30 | 1 | 0 | 0 |
| 1988 | Ohio State | 8 | 8 | 40 | 24 | 16 | 1.5 | 13 | 1.5 | 13 | 0 | 1 | 1 | 7 | 2 | 0 | 1 |
| Total | - | 34 | 19 | 126 | 70 | 56 | 7.5 | 34 | 1.5 | 13 | 1 | 3 | 4 | 37 | 3 | 0 | 1 |