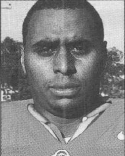 Nationality

United States

Position

FB, ST, TE

Birthday

3/7/1977

Hometown

Columbus, OH

High School

St. Charles

Height

6'3"

Weight

250

Current Team

Ohio State

Seasons

1997, 1998, 1999, 2000
Major: Business (1998-00)
Weight: 250 (1998-00)
2000 Media Guide: Tight ends coach Bill Conley summed up Marvin Payne with one simple sentence: "He just loves being a Buckeye." Payne walked on to the team in 1996 and has remained one of the squad's hardest workers ever since. He has experimented at both the tight end and fullback position, but seems to have found a niche at tight end this season and will also see time on special teams. "Marvin Payne is a very unselfish person and player," Conley said. "He works really hard and is a very good blocker for being a little undersized."
1999: Did not see any live game action.
1999 Media Guide: Marvin Payne has worked hard at two positions – tight end originally and he added fullback to his resume this past spring – and this fall should settle in at one or the other. He is entering his third season with the team after walking-on in 1996. "Marvin is a tremendous team player and he has a great attitude," said tight end's coach Bill Conley.
1998: Enjoyed his first collegiate action as a redshirt freshman in 1998, with playing time coming against Missouri, Penn State, Minnesota and Northwestern.
1998 Media Guide: Entering his second season with the Buckeyes … is a hard-working tight end who Bill Conley says "is a real tough kid … he is a good blocker, progressed well as spring practice went along and is dependable."
1997: Redshirted the season as a true freshman.
Personal: Attended St. Charles High School in Columbus … is the son of Debbie and Raymond Payne … born March 7, 1977.
Offense
| Season | Team | G | GS | Tgt | Rec | Rec Yds | Rec TD | Lng |
| --- | --- | --- | --- | --- | --- | --- | --- | --- |
| 2000 | Ohio State | 2 | 0 | 0 | 0 | 0 | 0 | 0 |
| Total | - | 2 | 0 | 0 | 0 | 0 | 0 | 0 |
Defense
| Season | Team | G | GS | Tkl | Solo | Asst | TFL |
| --- | --- | --- | --- | --- | --- | --- | --- |
| 2000 | Ohio State | 2 | 0 | 3 | 2 | 1 | 0 |
| Total | - | 2 | 0 | 3 | 2 | 1 | 0 |