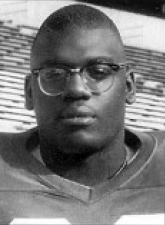 Nationality

United States

Position

NG, OG

Birthday

5/30/1974

Hometown

Warren, OH

High School

Harding

Height

6'4"

Weight

275

Current Team

Ohio State

Seasons

1992, 1993, 1994, 1995, 1996
Post-OSU Update: LeShun Daniels was not selected in the 1997 NFL Draft, but did play one regular-season NFL game with the Vikings that year. Daniels has two sons with NFL ability – LeShun Jr. and James Daniels (2019 2nd-round pick), both whom played at Iowa. (updated Jan. '22)
Major: Black Studies (1995-96), Unknown (1992-94)
Number: 57 (1994-96), 96 (1993)
Weight: 290 (1996), 285 (1995), 275 (1994), 267 (1993), 265 (1992)
1996: Started all 12 games at right guard, ending his career with a string of 38 consecutive starts at that position … again ranked as one of the team leaders in playing time, topping the 300-minute plateau for the third consecutive year … played every offensive down against Notre Dame, Wisconsin, Michigan and Arizona State.
1996 Media Guide: In his third year as the Buckeyes' starting right guard … steady, dependable player, who won second-team all-Big Ten honors in 1995 … has started 26 consecutive games
since taking over as a first-teamer in the spring of 1994 … has been an ironman since becoming a starter, playing at least 300 minutes each of the past two seasons … chosen as the Buckeyes' Offensive Lineman of the Week following last year's Wisconsin game … broke a bone in his left hand against Illinois (Nov. 11) and played the rest of the season using a soft cast for protection … good athlete with good quickness … serious and hard working.
1995 Media Guide: Will be in his second year as the starter on the right side … started all 13 games last year … ranked among the team leaders in playing time with 317 minutes … played at least 20 minutes in every game but one (Houston) … became a starter in the spring of '94 when Juan Porter moved from guard to center … had a good first year and played particularly well the final three weeks of the season when Ohio State downed Wisconsin, Indiana and Michigan on consecutive Saturdays … good athlete who can run … had a number of key blocks last year, including a bone crusher at Michigan State that sprang Eddie George loose on a 21-yard jaunt down the Spartan sideline.
1994 Media Guide: Came out of spring drills as the starter at right guard … good athlete who has improved greatly since moving to offense during fall camp last season … a hard worker who has good quickness and acceleration… will have to ward off challenges from several incoming players for the starting job, but should definitely be a contributor whether he starts or not.
1993: Backup guard who played against Rice, Pittsburgh, Northwestern and Purdue for a total of 29 minutes … longest stints were nine minutes each against both Pittsburgh and Purdue… moved to guard in fall camp.
1993 Media Guide: Began last spring as one of three candidates for the open nose guard spot and is still very much in the picture … may be the best pure athlete of the three … has tremendous quickness and acceleration to the ball … needs to become more consistent, but is going to be a good football player and should play a lot this season in some capacity.
1992: Redshirted.
1992 Media Guide: Played on both the offensive and defensive lines in high school, and is projected to play middle guard for the Buckeyes … an honorable mention All-America selection by Street & Smith's and an all-conference and all-county selection … had 65 total tackles and five quarterback sacks as a senior and 70 stops with seven sacks as a junior … served as team captain as a senior … helped Harding win the state Division I (large school) title his junior year … team was 22-2 his last two seasons … from the same school as Buckeye freshman Korey Stringer … would like to study nursing … high school coach was Phil Annarella … nickname is Shawn … participated on a national champion "Knowledge Bowl" team … born 5-30-74 … hobbies include Super Nintendo and collecting fifty cent pieces.
Offense
| Season | Team | G | GS | FR |
| --- | --- | --- | --- | --- |
| 1993 | Ohio State | 3 | 0 | 0 |
| 1994 | Ohio State | 13 | NA | 0 |
| 1995 | Ohio State | 13 | 13 | 0 |
| 1996 | Ohio State | 12 | 12 | 1 |
| Total | - | 41 | 25 | 1 |
Defense
| Season | Team | G | GS | Tkl | Solo | Asst | FR |
| --- | --- | --- | --- | --- | --- | --- | --- |
| 1993 | Ohio State | 3 | 0 | 0 | 0 | 0 | 0 |
| 1994 | Ohio State | 13 | NA | 0 | 0 | 0 | 0 |
| 1995 | Ohio State | 13 | 13 | 1 | 1 | 0 | 0 |
| 1996 | Ohio State | 12 | 12 | 0 | 0 | 0 | 1 |
| Total | - | 41 | 25 | 1 | 1 | 0 | 1 |