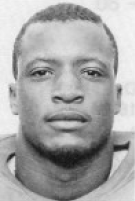 Nationality

United States

Position

TB, CB

Birthday

2/4/1967

Hometown

Toledo, OH

High School

Scott

Height

6'1"

Weight

190

Current Team

Ohio State

Seasons

1986, 1987, 1988, 1989, 1990
Major: Industrial Technology (1990), Education (1988-89), Interior Design (1987)
Weight: 190 (1990), 185 (1988), 190 (1987)
1990 Media Guide: Senior speedster who will play behind Foster Paulk on the right corner … also a valuable member of the Specialty teams … came to Ohio State as an all-state tailback, but was converted to defense after the 1987 season … played in all 12 games last year and totaled eight tackles … also credited with one pass broken up.
1989: Had a career high three tackles against Boston College.
1989 Media Guide: In his second full season on defense after spending his first two years at tailback … played in eight games last year and acquired valuable experience … a good athlete with the size to be a very physical player … one of the Buckeyes' fastest players.
1988: Saw action at nickel back and was used mainly in passing situations to take advantage of his speed.
1988 Media Guide: One of the Buckeyes' fastest players … 4.4 speed … with his speed, he could also help out either at wide receiver or in the secondary … a good athlete who figures to make an impact before he graduates.
1987: Played in three games as a reserve tailback … carried the ball three times for a total of six yards.
1987 Media Guide: Unable to play at Ohio State last year because of a shoulder injury in a pick-up basketball game while in high school … his first football competition at Ohio State was the spring of 1987 … Buckeye coaches are anxious to find a spot for Price because of his athletic ability.
1986: Redshirted.
HIGH SCHOOL: An all-Ohio tailback as a senior … rushed for 1,137 yards and eight touchdowns as a senior … also played defense and had 15 career interceptions, eight his final year … rated as one of the top 100 backs in the nation in recruiting publications … a standout hurdler, he also received a number of track offers.
PERSONAL: Has run a 4.42 in the 40 … Hobbies include roller skating, music and going to the movies … wants to own his own business and plans a career in city and regional planning.
Offense
| Season | Team | G | GS | Rush Att | Rush Yds | Rush Avg | Rush TD | FR | PR | PR Yds | PR TD |
| --- | --- | --- | --- | --- | --- | --- | --- | --- | --- | --- | --- |
| 1987 | Ohio State | 3 | 0 | 3 | 6 | 2.0 | 0 | 0 | 0 | 0 | 0 |
| 1988 | Ohio State | 8 | 0 | 0 | 0 | 0 | 0 | 0 | 0 | 0 | 0 |
| 1989 | Ohio State | 12 | 0 | 0 | 0 | 0 | 0 | 0 | 0 | 0 | 0 |
| 1990 | Ohio State | 11 | 3 | 0 | 0 | 0 | 0 | 0 | 1 | 16 | 0 |
| Total | - | 34 | 3 | 3 | 6 | 2.0 | 0 | 0 | 1 | 16 | 0 |
Defense
| Season | Team | G | GS | Tkl | Solo | Asst | TFL | TFL Yds | Sacks | Sack Yds | FF | FR | Int | Int Yds | PBU | Blk | PR | PR Yds | PR TD |
| --- | --- | --- | --- | --- | --- | --- | --- | --- | --- | --- | --- | --- | --- | --- | --- | --- | --- | --- | --- |
| 1987 | Ohio State | 3 | 0 | 0 | 0 | 0 | 0 | 0 | 0 | 0 | 0 | 0 | 0 | 0 | 0 | 0 | 0 | 0 | 0 |
| 1988 | Ohio State | 8 | 0 | 0 | 0 | 0 | 0 | 0 | 0 | 0 | 0 | 0 | 0 | 0 | 0 | 0 | 0 | 0 | 0 |
| 1989 | Ohio State | 12 | 0 | 8 | 4 | 4 | 0 | 0 | 0 | 0 | 0 | 0 | 0 | 0 | 1 | 0 | 0 | 0 | 0 |
| 1990 | Ohio State | 11 | 3 | 22 | 10 | 12 | 0.5 | 6 | 0 | 0 | 0 | 0 | 1 | 9 | 1 | 1 | 1 | 16 | 0 |
| Total | - | 34 | 3 | 30 | 14 | 16 | 0.5 | 6 | 0 | 0 | 0 | 0 | 1 | 9 | 2 | 1 | 1 | 16 | 0 |