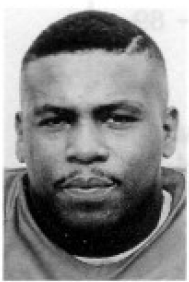 Nationality

United States

Position

NG

Birthday

5/24/1968

Hometown

Dayton, OH

High School

Meadowdale

Height

6'2"

Weight

260

Current Team

Ohio State

Seasons

1986, 1987, 1988, 1989, 1990
Major: Business (1989), Industrial Technology (1986)
Weight: 260 (1989-90), 244 (1987), 240 (1986)
1990: Media Guide: The No. 2 middle guard and an extremely valuable player … has 15 career starts and is one of the Buckeyes' most experienced defensive linemen … has spent most of his career at defensive tackle, but is an excellent middle guard prospect because of his tremendous quickness … probably Ohio State's quickest down lineman… agile and difficult to get off his feet … figures to see a lot of playing time even if he doesn't start.
1989: Played in all 12 games and started against Northwestern and Wisconsin … finished the year with 21 tackles.
1989 Media Guide: A top-notch reserve who will play behind Mike Showalter and can also play nose guard if need be … has been a frequent starter throughout his career and gives OSU experience coming off the bench … very strong and one of the Buckeyes' quickest lineman … agile and tough to get off his feet … started seven games last year after Showalter was hurt and finished the season with 26 tackles.
1988: Played in all 11 games and totaled a respectable 165 minutes … played 26 minutes at Michigan State, his longest stint of the year… six tackles against Illinois was his best showing.
1988 Media Guide: The Buckeyes' quickest defensive lineman … will share time at the end tackle with Derek MacCready … difficult to keep out of the backfield because of his combination of quickness and strength … started six of the eight games he played in last year … played 138 minutes … a promising young player.
1987: Started six games and had 11 tackles in a learning year.
1986: Redshirted.
HIGH SCHOOL: First-team all-Ohio defensive lineman as a senior. . . rated one of the top 100 senior players in the country in 1985 … a three-year starter who played guard on offense … his quickness and range on defense may bring about a move to linebacker.
PERSONAL: Likes include swimming, playing basketball, singing and jazz … favorite foods are ribs and steak … favorite actor is Richard Pryor … father is a minister.
Defense
| Season | Team | G | GS | Tkl | Solo | Asst | TFL | TFL Yds | Sacks | Sack Yds | FF | FR | Int | PBU | Blk |
| --- | --- | --- | --- | --- | --- | --- | --- | --- | --- | --- | --- | --- | --- | --- | --- |
| 1987 | Ohio State | 8 | 6 | 11 | 5 | 6 | 1 | 7 | 1 | 7 | 1 | 0 | 0 | 0 | 0 |
| 1988 | Ohio State | 11 | 7 | 26 | 12 | 14 | 1.0 | 8 | 1.0 | 8 | 0 | 0 | 0 | 0 | 0 |
| 1989 | Ohio State | 12 | 2 | 21 | 10 | 11 | 2.0 | 12 | 1.0 | 9 | 0 | 0 | 0 | 0 | 0 |
| 1990 | Ohio State | 12 | 1 | 27 | 13 | 14 | 1 | 11 | 1 | 11 | 0 | 0 | 0 | 0 | 0 |
| Total | - | 43 | 16 | 85 | 40 | 45 | 5 | 38 | 4 | 35 | 1 | 0 | 0 | 0 | 0 |