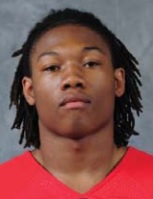 Nationality

United States

Position

ST, OLB

Height

6'4"

Weight

231

Hometown

Lewis Center, OH

High School

Olentangy

Past Teams

Ohio State

Seasons

2012, 2013, 2014
Major: Consumer and Family Financial Services (2015), Family Resource Management (2014), Pre-business (2013)
Jersey #: 37 (2013-15), 15 (2012)
Weight: 254 (2015), 250 (2014), 243 (2013), 231 (2012)
2015 Media Guide: Joshua Perry is a force as a linebacker for the Buckeyes and as a conscientious and proactive team leader … a true senior, he is now a veteran of 39 games and 24 starting assignments … he enters the season as a candidate for the Lott IMPACT Award, which honors athletic ability but also character attributes such as integrity, maturity, performance, academics, community and tenacity … coming off a season in which he led the team in tackles, Perry is No. 1 on the team in career tackles (193) and solo tackles (114) and he's within reach of a possible Top 10 standing – all-time – in career tackles at Ohio State with another productive year … he has been extremely consistent, with at least five tackles in 20 consecutive games and in 23 games total … he has also produced games of 10-or-more tackles four times … a consumer and family financial services major, Perry interned during the 2015 May school session with M/I Homes and during the 2014 May session with Continental Realty … this past May he also went to Costa Rica as part of the "Soles 4 Souls" program and spent a week distributing shoes to those in need.
2014: Perry played in all 15 games, started 14 times and led the College Football Playoff national champions in tackles with 124, a total that ranked second in the Big Ten Conference and 19th nationally … he was named second-team all-Big Ten Conference … his 73 solo tackles are topped by just one Buckeye – Ryan Shazier with 101 in 2013 – in the last 12 years … he led the team in tackles in seven of the team's 15 games with three double-figure tackling games led by a marvelous and career-best 18-tackle game in the double-overtime win at Penn State … had a personal-best 12 solo stops vs. the Nittany Lions … recorded 14 stops vs. Indiana and 11 vs. Virginia Tech with nine against Navy, Michigan State and Michigan, respectively … made a career-best three tackles-for-loss vs. Indiana for minus-10 yards and had two TFLs vs. both Virginia Tech (-11 yards) and Penn State (-7 yards) … befriended
a young cancer patient from Florida – Joshua Chambers – and participated in numerous activities and events to 1) raise the little guy's spirits before a surgery or hospital visit and to 2) help raise awareness for the plight of pediatric cancer patients.
2014 Media Guide: Joshua Perry – he prefers Joshua over the truncated Josh – is a rapidly improving and physically imposing young man who is becoming a force at linebacker for the Buckeyes … he "is pretty well done," coach Urban Meyer said this spring in complimenting Perry's improving linebacker play … a veteran of 24 games with 10 starts behind him, Perry is switching from the strong side and middle linebacker roles he filled his first two seasons to the departed Ryan Shazier's weak-side linebacker position this year … he made the move to the new position this spring … a family resource management major, Perry interned during the 2014 May session with Continental Realty … he was an OSU Scholar-Athlete following the 2012-13 academic year.
2013: Perry played in 13 games as a true sophomore and started 10 times at the strong-side linebacker position … he totaled 64 tackles to rank fourth on the team in total tackles … also had two tackles-for-loss and two pass break-ups … produced eight games with five or more tackles including a team-leading and career-high 10 vs. Clemson in the Discover Orange Bowl … sacked Clemson's Tajh Boyd in the end zone for a sack and a safety for one of his biggest plays of the year … Perry also had nine tackles vs. Indiana and seven vs. both Wisconsin and Michigan … had a solo tackle high of seven vs. Clemson with six solos vs. Indiana.
2013 Media Guide: Joshua Perry played and lettered as a true freshman in 2012, and this season he is vying to be the starter at the strong side linebacker position … he played in 10 games for the undefeated Buckeyes in 2012, mostly on special teams, but he did see action on the defensive line of scrimmage in four games, including a personal-high 32 plays vs. Nebraska … he recorded five tackles on the season with three hits coming vs. the Cornhuskers … Perry was one of six in the 2012 recruiting class to enroll in school in January 2012 and take part in spring drills.
2012 Media Guide: Joshua was the first Ohio State commitment of this 2012 class (June 2010).
High School: Rated as the No. 9 outside linebacker prospect in the country by Scout.com and No. 11 nationally at the position by Rivals.com … the No. 6 senior in Ohio by Rivals.com; No. 9 by Scout.com … also a member of the Rivals.com 250 … named second-team Ohio Division I all-state by the Associated Press as a senior for coach Ed Terwilliger … had 70 tackles and seven sacks as a senior … he was top-five twice in the long jump at the Ohio state track and field championships, including a runner-up finish as a sophomore in 2010 (current Buckeye receiver Devin Smith won the event) … produced a long jump personal-best leap of 23 feet, and also ran the hurdles and 400 meters … played basketball as well.
Personal: Older brother, Wes, is a second-year student at Ohio State studying jazz and music education and younger brother, Jahred, is a sophomore in high school … the son of Jim and Georgette Perry … enrolled at Ohio State in January 2012 and was named an OSU Scholar-Athlete.
Defense
| Season | Team | G | GS | Tkl | Solo | Asst | TFL | TFL Yds | Sacks | Sack Yds | FF | FR | Int | Int Yds | PBU | Blk | Def TD |
| --- | --- | --- | --- | --- | --- | --- | --- | --- | --- | --- | --- | --- | --- | --- | --- | --- | --- |
| 2012 | Ohio State | 10 | 0 | 5 | 3 | 2 | 0 | 0 | 0 | 0 | 0 | 0 | 0 | 0 | 0 | 0 | 0 |
| 2013 | Ohio State | 14 | 10 | 64 | 38 | 26 | 2.0 | 3 | 1.0 | 1 | 0 | 0 | 0 | 0 | 2 | 0 | 0 |
| 2014 | Ohio State | 15 | 14 | 124 | 73 | 51 | 8.5 | 31 | 3.0 | 18 | 1 | 0 | 1 | 0 | 2 | 0 | 0 |
| Total | - | 39 | 24 | 193 | 114 | 79 | 10.5 | 34 | 4 | 19 | 1 | 0 | 1 | 0 | 4 | 0 | 0 |