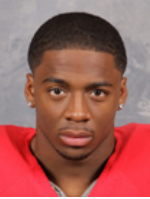 Nationality

United States

Position

TB

Hometown

Jeannette, PA

High School

Jeannette

Height

5'10"

Weight

198

Past Teams

Ohio State

Seasons

2009, 2010, 2011, 2012
Jersey #: 7 (2010-12), 29 (2009)
Major: Family Resource Management (2012), Undeclared (2009-11)
Weight: 198 (2012), 190 (2011), 195 (2010), 190 (2009)
2012 Media Guide: Jordan Hall is a three-year letterman and a talented running back, receiver and return man … he was expected to be a significant beneficiary of Coach Urban Meyer's Ohio State spread offense from the start, but he will be sidelined until sometime in September because of an accidental foot injury that required him to have surgery June 29 … stepped on a piece of glass while walking in his yard and will be in a cast for six weeks followed by at least four weeks of rehabilitation … Jordan has 817 career rushing yards with five touchdowns and has also caught 21 passes out of the backfield for 202 yards and four more TDs … he has been the key return man for the Buckeyes the last three years, a big reason why he ranks 26th all-time at Ohio State with 2,513 all-purpose yards … a veteran of 29 games, Jordan started three times in 2011.
2011 Media Guide: ballcarrier who has hones his potential with hard work and experience.
2010: Deep on punt and kick returns … averaged 9.92 yards on punt returns (second in the Big Ten) and 27.94 on kick returns (16th in NCAA) for the season … gained 32 yards on 5 carries in the Marshall win … kick returns of 47 and 18 yards vs. Miami … 14 yards rushing vs. Ohio … tossed a 10-yard touchdown pass to Terrelle Pryor in the Eastern Michigan win, and also caught a 17-yard TD from Joe Bauserman vs. EMU … scored rushing TD against Purdue … 70-yard punt return at Minnesota … 85-yard kickoff return for a touchdown in second quarter of Michigan game … special teams player of week: Michigan … second-year letterman.
2010 Media Guide: young ballcarrier who complements the running styles of veterans Brandon Saine and Dan Herron … quick and spry with great explosion.
2009: Became the Buckeyes' third tailback as a true freshman … first action came against Toledo, when he rushed for 44 yards … gained 22 yards vs. Illinois … 37 yards on 11 carries at Indiana … scored first TD on 11-yard gain vs. Minnesota … leading rusher vs. New Mexico State, with 90 yards on 10 carries, including a 39-yard long gain … Top Ten Tenacious three times … first-year letterwinner.
High School: Tailback who averaged 8.5 yards per carry for the Jeannette Jayhawks … three-time
all-conference for Coach Ray Reitz … 946 yards, 18 TD rushing as a senior, along with 266 receiving yards (3 TD) and 3 scores on returns … Pittsburgh Tribune-Review Terrific 25 and player of the year … Pittsburgh Post-Gazette Fabulous 22 two years … team was 14-2 (WPIAL champ, state runner-up) his sophomore year, 16-0 (state champ) as a junior and 10-2 (WPIAL semis) as a senior … Super Prep Pennsylvania Top 25 … all-state basketball player and 1,000-point scorer … also a track standout
… Outstanding Westmoreland African-American Student … high school quarterback was Terrelle Pryor.
Personal: Son of Travia and Derrick Hall Sr.
Offense
| Season | Team | G | GS | Comp | Pass Att | Cmp % | Pass Yds | Pass TD | Pass Int | Rush Att | Rush Yds | Rush Avg | Rush TD | Rec | Rec Yds | Rec Avg | Rec TD | Lng | 2 Pt Conv | Fum | Lost | KR | KR Yds | KR Avg | KR TD | PR | PR Yds | PR Avg | PR TD |
| --- | --- | --- | --- | --- | --- | --- | --- | --- | --- | --- | --- | --- | --- | --- | --- | --- | --- | --- | --- | --- | --- | --- | --- | --- | --- | --- | --- | --- | --- |
| 2009 | Ohio State | 6 | 0 | 0 | 0 | 0 | 0 | 0 | 0 | 48 | 248 | 5.2 | 1 | 1 | 5 | 5.0 | 0 | 39 | 0 | NA | NA | 0 | 0 | 0 | 0 | 0 | 0 | 0 | 0 |
| 2010 | Ohio State | 13 | 0 | 1 | 1 | 100.0 | 20 | 1 | 0 | 37 | 161 | 4.4 | 2 | 8 | 83 | 10.4 | 1 | 25 | 0 | NA | NA | 18 | 503 | 27.9 | 1 | 24 | 238 | 9.9 | 0 |
| 2011 | Ohio State | 10 | 3 | 0 | 0 | 0 | 0 | 0 | 0 | 100 | 408 | 4.1 | 2 | 12 | 114 | 9.5 | 3 | 38 | 0 | NA | NA | 26 | 683 | 26.3 | 0 | 12 | 70 | 5.8 | 0 |
| Total | - | 29 | 3 | 1 | 1 | 0 | 20 | 1 | 0 | 185 | 817 | 0 | 5 | 21 | 202 | 0 | 4 | 39 | 0 | 0 | 0 | 44 | 1186 | 0 | 1 | 36 | 308 | 0 | 0 |