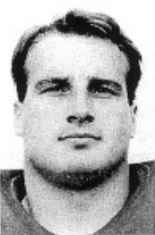 Nationality

United States

Position

OT

Birthday

12/08/1966

Hometown

Elyria, OH

High School

Midview

Height

6'5"

Weight

290

Current Team

Ohio State

Seasons

1985, 1986, 1987, 1988, 1989
Post-OSU Update: Joe Staysniak was selected in the seventh round (185th overall) of the 1990 NFL Draft by San Diego. He played 63 games over six seasons, starting the 1994 and 1995 season with the Colts. After his playing days, Staysniak co-hosted a sports radio show for several years in Indianapolis. (updated: Nov. 2022)
Pronunciation: STAYS-nee-ack
Jersey #: 79 (1986-89), 73 (1985)
Major: Marketing (1988-89), Business Administration (1986-87), Engineering (1985)
Weight: 290 (1989), 287 (1988), 282 (1987), 286 (1986), 277 (1985)
1989 Media Guide: Joe Staysniak is a strong candidate for postseason honors … OSU's most agile lineman … in his third year as a starter … ideal quick tackle because of his foot speed and mobility … excellent pass blocker, which is a prerequisite for his position … improved strength is the biggest difference between this year and last … a very intelligent player who has quickly grasped the many adjustments required on the offensive line … a three-time Big Ten All-Academic choice … has started 33 of 35 games and has been very durable throughout his career.
1988: Started nine of 11 games and logged 251 minutes of playing time … had a string of 26 consecutive starts snapped against LSU … started the final seven games of the season and played 24 or more minutes in six of those games.
1988 Media Guide: A fixture at left tackle the past two seasons, starting all 24 games … will start at quick tackle this fall.
1987: Started all 11 games and led the team in playing time with 328 minutes … missed spring practice with mono.
1987 Media Guide: Improved steadily to the point where he and Jeff Uhlenhake are considered Ohio State's top offensive lineman … an excellent blocker and good technician … a likely candidate for all-Big Ten honors this year and All-America recognition before he finishes.
1986: Started all 13 games and played 334 minutes … chosen to the Big Ten All-Academic team … voted the "Top Freshman Offensive Lineman" by Buckeyes coaches.
1986 Media Guide: His impressive play in spring practice has made him a favorite to start at left tackle.
1985: Redshirted.
High School: Won first-team all-Ohio honors … district lineman of the year … a two-way tackle … also did the place kicking, making 20 of 24 extra points and all three field goal tries … was third in his class with a 3.9 grade point average.
Personal: Enjoys all sports … admires Walter Payton, John Riggins, Julius Erving and Michael Jordan … works for a landscaper during the summer.
Offense
| Season | Team | G | GS | FR | KR | KR Yds |
| --- | --- | --- | --- | --- | --- | --- |
| 1986 | Ohio State | 13 | 13 | 1 | 0 | 0 |
| 1987 | Ohio State | 11 | 11 | 0 | 0 | 0 |
| 1988 | Ohio State | 11 | 9 | 0 | 1 | 0 |
| 1989 | Ohio State | 12 | 12 | 0 | 0 | 0 |
| Total | - | 47 | 45 | 1 | 1 | 0 |