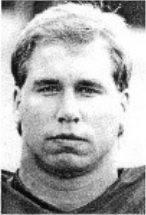 Nationality

United States

Position

C, OG, DT

Birthday

1/28/1966

Hometown

Newark, OH

High School

Newark Catholic

Height

6'4"

Weight

270

Past Teams

Ohio State

Seasons

1984, 1985, 1986, 1987, 1988
Post-OSU Update: Jeff Uhlenhake was selected in the fifth round (121st overall) of the 1988 NFL Draft. He played nine years in the NFL, participating in 119 games (112 starts) for the Dolphins, Saints, and Redskins. (updated: Nov. 2022)
Pronunciation: YOO-lun-hake
Jersey #: 68 (1986-88), 97 (1985-87), 70 (1984)
Major: Hospitality Management (1988), Business Management (1984-87)
Weight: 270 (1988), 250 (1987), 248 (1986), 240 (1985), 230 (1984)
1988 Media Guide: Jeff Uhlenhake is one of the top lineman in college football and a leading contender for All-America honors this year … big, strong, quick, tough and intelligent … has started 33 of a possible 36 games the past three years … played guard his first two years and won first-team all-Big Ten honors as a sophomore … had both knees "scoped" after his sophomore year and could not take part in spring practice, but still made the difficult transition to center with relative ease last fall … has worked hard to make himself a better player, concentrating this past spring on the long snap … OSU's strongest lineman … bench presses 420, runs a 4.9 in the 40 and has a 28-inch vertical leap … an excellent leader.
1987 Media Guide: Played in all 25 games the past two years and has started in 23 … will be moved to center in 1987 … Ohio State's top offensive lineman.
1986: A first-team all-Big Ten guard in 1986 … played 331 minutes.
1986 Media Guide: Has good speed and is well grounded in fundamentals.
1985: Started all but the opening game in 1985, playing a total of 318.5 minutes.
1985 Media Guide: Practiced with the defensive and offensive units last fall and coaches decided defensive tackle was his best position … advanced to the second unit in spring drills.
1984: Redshirted.
High School: The Class "A" Lineman of the Year as a senior and a two-time all-Ohio pick … Newark Catholic won the state title his sophomore year and was runner-up each of the next two years … played offensive tackle and defensive end … played in the North-South All-Star Game.
Personal: Hobbies are reading, music and golf.
Offense
| Season | Team | G | GS | FR |
| --- | --- | --- | --- | --- |
| 1985 | Ohio State | 12 | 11 | 1 |
| 1986 | Ohio State | 13 | 12 | 0 |
| 1987 | Ohio State | 11 | 11 | 0 |
| 1988 | Ohio State | 11 | 11 | 0 |
| Total | - | 47 | 45 | 1 |
Defense
| Season | Team | G | GS | Tkl | Solo | Asst | FR |
| --- | --- | --- | --- | --- | --- | --- | --- |
| 1985 | Ohio State | 12 | 11 | 0 | 0 | 0 | 1 |
| 1986 | Ohio State | 13 | 12 | 0 | 0 | 0 | 0 |
| 1987 | Ohio State | 11 | 11 | 1 | 1 | 0 | 0 |
| 1988 | Ohio State | 11 | 11 | 0 | 0 | 0 | 0 |
| Total | - | 47 | 45 | 1 | 1 | 0 | 1 |