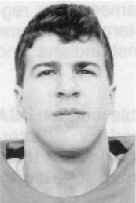 Nationality

United States

Position

ST, SS

Birthday

4/15/1968

Hometown

Beaver Falls, PA

High School

Blackhawk

Height

5'11"

Weight

190

Current Team

Ohio State

Seasons

1987, 1988, 1989, 1990
Major: Economics (1990), Business Management (1986-89)
Weight: 190 (1989-90), 196 (1988), 195 (1987), 188 (1986)
1990 Media Guide: Will start at strong safety … physical player who plays the run exceptionally well … has played in 30 of a possible 34 games the past three years and is one of the Buckeyes' most experienced defensive backs … backed up Zack Dumas and was the nickel back last year … a crowd favorite on kick coverage because of his jarring tackles.
1989: Played in eight games and started the USC and Purdue games … had 30 tackles … top effort was eight tackles (Purdue and Minnesota) … twisted a knee against Northwestern and missed the last three games.
1989 Media Guide: The Buckeyes' leading returning tackler … started nine of the 11 games and was second on the team in playing time with 293 minutes … a jarring tackler and the Buckeyes' best blitzer.
1988: Was second on the team in tackles with 87 and had a team best 54 solos … recorded a career high 12 tackles against Purdue … also had double-figure games against Syracuse and lowa with 11 and 10 stops, respectively.
1988 Media Guide: Won the starting spot in the spring … probably the Buckeyes' most physical defensive back … very good on punt and kickoff coverage.
1987: Appeared in 11 games, but totaled just 12 minutes … did see some action as the nickel back … played both rover and corner.
1987 Media Guide: Has impressed the Buckeye staff with his ability to hit … was recruited by Penn State, Notre Dame and Virginia in addition to Ohio State.
1986: Redshirted.
HIGH SCHOOL: An all-state quarterback … completed nearly 60 percent of his passes as a senior, but had his season prematurely ended by a broken collarbone … a versatile two-way athlete who also played safety on defense and was an outstanding punt and kick return specialist … led his team in tackles as a sophomore and junior … holds his school record for interceptions … played in the Big 33 All-Star Game … also a sprinter on the track team.
PERSONAL: Hobby is skiing … enjoys listening to music
Defense
| Season | Team | G | GS | Tkl | Solo | Asst | TFL | TFL Yds | Sacks | Sack Yds | FF | FR | Int | Int Yds | PBU | Blk | Def TD |
| --- | --- | --- | --- | --- | --- | --- | --- | --- | --- | --- | --- | --- | --- | --- | --- | --- | --- |
| 1987 | Ohio State | 11 | 0 | 10 | 5 | 5 | 0 | 0 | 0 | 0 | 1 | 0 | 0 | 0 | 0 | 0 | 0 |
| 1988 | Ohio State | 11 | 9 | 87 | 54 | 33 | 7.5 | 27 | 1.0 | 10 | 0 | 1 | 2 | 3 | 3 | 0 | 0 |
| 1989 | Ohio State | 8 | 2 | 30 | 15 | 15 | 1.5 | 12 | 1.5 | 12 | 1 | 0 | 0 | 0 | 1 | 0 | 0 |
| 1990 | Ohio State | 12 | 10 | 68 | 45 | 23 | 4 | 18 | 1 | 11 | 0 | 0 | 0 | 0 | 1 | 0 | 0 |
| Total | - | 42 | 21 | 195 | 119 | 76 | 13 | 57 | 3.5 | 33 | 2 | 1 | 2 | 3 | 5 | 0 | 0 |