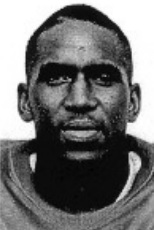 Nationality

United States

Position

ST, SS, CB

Birthday

3/14/1968

Hometown

Deptford, NJ

High School

Deptford

Height

6'2"

Weight

192

Current Team

Ohio State

Seasons

1986, 1987, 1988, 1989
Post-OSU Update: Zack Dumas was not selected in the 1990 NFL Draft and never played in the NFL. He did play some semi-professional ball in the Arena league. (updated: Nov. 2022)
Major: Education (1988-89)
Weight: 192 (1988-89), 200 (1986)
1989: In his final collegiate game, the 1990 Holiday Bowl against Auburn, Dumas delivered one of the biggest hits in football history.
1989 Media Guide: Zack Dumas is a bona fide all-star candidate … outstanding all-around player who started nine games at corner last year … moved to safety in the spring without missing a beat … reads very well and gets an excellent jump on the ball … great combination of strength and speed … very good at man coverage … excellent blitzing back … seems to play his best against the best players and in the big games … a hitter … the type of back who makes big players.
1988: Third on the team in total tackles with 85 and second in solos with 44 … has 16 tackles at Michigan State, the top effort of the year by an OSU defender.
1988 Media Guide: Will contend with Tony Cupe for a starting spot this year … has the physical tools to be an outstanding player.
1987: Started the last six games after Greg Rogan was lost for the season with a broken leg.
1987 Media Guide: Won a letter as a freshman last year as a member of the specialty teams and as a reserve defensive back … has the size, speed and quick reactions to be an outstanding defender in the secondary.
1986: Lettered as a freshman, making 13 tackles in 12 games.
High School: A Parade All-American as a senior, when he ran for 1,116 yards and scored 12 touchdowns … also collected 103 tackles and had 10 interceptions that year … threw just three passes during his career, but all three went for TDs … returned ten kickoffs for 244 yards and 11 punts for 273 … had 22 career interceptions … lettered three years in basketball and track, competing in the 100, 400 and long jump in the latter.
Personal: Enjoys all music, especially jazz … Italian foods are his favorite … wants to be a teacher … still an avid basketball player … favorite actor is Eddie Murphy … admires Walter Payton and Michael Jordan.
Defense
| Season | Team | G | GS | Tkl | Solo | Asst | TFL | TFL Yds | Sacks | Sack Yds | FF | FR | Int | Int Yds | PBU | Blk | Def TD |
| --- | --- | --- | --- | --- | --- | --- | --- | --- | --- | --- | --- | --- | --- | --- | --- | --- | --- |
| 1986 | Ohio State | 12 | 0 | 13 | 8 | 5 | 0 | 0 | 0 | 0 | 0 | 0 | 0 | 0 | 0 | 0 | 0 |
| 1987 | Ohio State | 11 | 6 | 37 | 17 | 20 | 1 | 9 | 1 | 9 | 0 | 0 | 1 | 16 | 3 | 0 | 0 |
| 1988 | Ohio State | 11 | 10 | 85 | 44 | 41 | 1.0 | 5 | 0 | 0 | 1 | 1 | 0 | 0 | 1 | 1 | 0 |
| 1989 | Ohio State | 12 | 11 | 75 | 40 | 35 | 6.0 | 38 | 1.0 | 12 | 3 | 1 | 1 | 0 | 4 | 1 | 0 |
| Total | - | 46 | 27 | 210 | 109 | 101 | 8 | 52 | 2 | 21 | 4 | 2 | 2 | 16 | 8 | 2 | 0 |