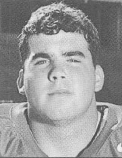 Nationality

United States

Position

OT

Birthday

9/01/1979

Hometown

Brecksville, OH

High School

St. Ignatius

Height

6'5"

Weight

290

Current Team

Ohio State

Seasons

1997, 1998, 1999, 2000
Major: Business (1998-00), Unknown (1997)
Weight: 290 (1999-00), 285 (1998), 260 (1997)
2000 Media Guide: Equipped with the natural size and strength of an offensive lineman, Jim Massey is set to contribute more than he ever has to the Ohio State football program in this his junior season. The prep star's development was slowed two years ago after he underwent back surgery prior to his redshirt freshman season and wasn't able to even strap on the pads until December. Massey used last year – essentially his first full season as a Buckeye – to learn the ropes of being a collegiate offensive lineman and this spring was listed as the primary backup at left tackle. "Jim has good size and great strength," George Belu, offensive line coach, said. "I think it's just a matter of time before he becomes a really good football player."
1999: Played in five games … made his first collegiate appearance in the second game of the season vs. UCLA … played 13 minutes on the year … recorded a season-high six minutes against Ohio University.
1999 Media Guide: Jim Massey performed well during spring drills and "will push for playing time along the offensive line this fall," said offensive line coach Mike Jacobs. That assessment of Massey is one that is particularly noteworthy, considering Massey did not play last fall after undergoing lower back surgery during fall camp.
1998: Hard to find a happier Buckeye than Massey on Dec. 4. That was the day he was told he could put his pads on and begin practicing once again with the team after Aug. 12 surgery to correct a lower back problem. Was pressing for playing time with a solid spring prior to the injury.
1998 Media Guide: Young offensive lineman who is playing left tackle right now but could move over and play some at left guard … line coach Mike Jacobs says Jim is "a good athlete but needs some additional work in the weight room."
1997 Media Guide: Redshirted the season as a true freshman.
High School: Named first-team All-Cleveland by the Plain Dealer … as a three-year letter winner, he helped lead Ignatius to a three-year mark of 37-4 … played in the 1997 Ohio-Pennsylvania Big 33 Classic … wants to get in to law enforcement … greatest sports thrill was winning the national championship his junior year … likes the academics and great football tradition at Ohio State … enjoys boating and fishing … the person he most admires is his uncle, Jim Brady … has two brothers and one sister … parents are James and Linnen Massey … born 9-1-79.
Offense
| Season | Team | G | GS |
| --- | --- | --- | --- |
| 1999 | Ohio State | 6 | 0 |
| Total | - | 6 | 0 |