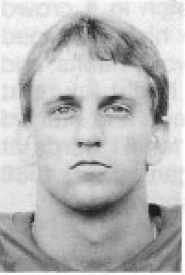 Nationality

United States

Position

P

Birthday

11/10/67

Hometown

Centerville, OH

High School

Centerville

Height

6'3"

Weight

205

Current Team

Ohio State

Seasons

1988, 1989, 1990
Pronunciation: Bowl-mun
Major: Marketing (1989-90)
1990: Media Guide: The starting punter the past two years … averaged 40.3 yards per kick last year, bettering his 39.0 figure from the previous year … walked on in the spring of 1988 and won the starting job … converted to scholarship at the end of last year … has developed into a consistent performer.
1989: Had 41 punts… four were touchbacks and 14 were dawned inside the 20 … 69 yarder at USC was his longest … finished fifth in the league in punting.
1989: Media Guide: The regular punter last fall after walking on the previous spring and winning the starting job … punted 50 times last fall and averaged 39.0 yards per kick … net figure was 34.9 yards … worked hard in the spring to improve his consistency.
1988: Did all the Buckeyes' punting … seven of his boots were touchbacks and 12 were downed inside the 20 … had a career best 70-yarder at Minnesota.
High School: All-state in baseball … lettered twice in football and twice in basketball … also started at wideout and caught 35 passes for 594 yards as a senior.
Personal: Hobbies are hunting and fishing … lists former OSU punter Tom Tupa as one of the athletes he admires most.
Defense
| Season | Team | G | GS | Tkl | Solo | Asst | FR | Pt | Pt Yds | Punt Avg | TB | I20 | Pt Blkd |
| --- | --- | --- | --- | --- | --- | --- | --- | --- | --- | --- | --- | --- | --- |
| 1988 | Ohio State | 11 | 0 | 0 | 0 | 0 | 1 | 50 | 1952 | 39.0 | 7 | 12 | 1 |
| 1989 | Ohio State | 12 | 0 | 5 | 5 | 0 | 0 | 41 | 1651 | 40.3 | 4 | 14 | 1 |
| 1990 | Ohio State | 12 | 12 | 0 | 0 | 0 | 0 | 51 | 2099 | 41.2 | 9 | 7 | 0 |
| Total | - | 35 | 12 | 5 | 5 | 0 | 1 | 142 | 5702 | 40.2 | 20 | 33 | 2 |