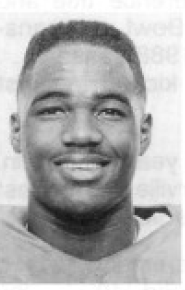 Nationality

United States

Position

SE

Birthday

7/1/1970

Hometown

Houston, TX

High School

Willowridge

Height

5'11"

Weight

175

Current Team

Ohio State

Past Teams

Ohio State

Seasons

1988, 1989, 1990, 1991, 1992
Major: Sociology (1991-92), Business Communications (1990), Business Administration (1989)
Pronunciation: Bait-ee
Jersey #: 3 (1989-92)
Weight: 180 (1992), 175 (1988-91)
1992: Media Guide: Solid reserve who has played both wide out positions during his career … the No. 2 flanker last year, but did not catch a pass in the ten games he played in … will back up Brian Stablein at split end this year … figures to have an increased role in the offense this year as the Buckeyes employ more sets with multiple wide receivers … a starter during the last half of the 1989 season, but a pre-season knee injury idled him in 1990 and reduced his effectiveness last year … appears to now be fully recovered from that injury … had a good spring and impressed the coaching staff with his work ethic and competitiveness … one of the Buckeyes' quickness receivers off the line … has worked extremely hard this past year and hopes to make his senior year his best yet.
1991: Media Guide: Went into the 1990 season figuring to alternate with Brian Stablein as the starting split end, but injured his knee in a non-contact drill in the first week of practice and has been idle ever since … fall camp will be his first action since that injury … highly thought of receiver, who can catch in a crowd … good speed, especially off the line, and runs very precise routes.
1990: Media Guide: Will alternate with Brian Stablein as the starting split end … coming off a solid year in which he had nine catches for 159 yards, an average of 17.7 yards per reception … has excellent speed and gets off the line of scrimmage very quickly … can catch in a crowd…has impressed coaches with his disciplined approach to the game…with his work habits and positive attitude, he has an extremely bright future at OSU…
1989: Played in all 12 games and started the last seven … had three catches for 61 yards at Minnesota … caught passes in six games.
1989: Media Guide: Freshman redshirt who will be a valuable addition to the OSU receiving corps … slated to back up Jeff Graham at split end but can also play flanker … excellent speed, especially out of the blocks … fearless receiver who has demonstrated the ability to catch in a crowd … very coachable … extremely disciplined player who worked hard last fall even though he knew he would not play in his first year.
1988: Redshirted … impressive spring showing.
HIGH SCHOOL: Four-year starter, helping Willowridge to a combined record of 42-7 … had 14 touchdown receptions during his career, including five as a senior … named Greater Houston Receiver of the Year as a senior when he had 25 total catches … won the district championship in the 110-meter high hurdles as a senior.
PERSONAL: Hobbies include basketball, jogging, and going to the movies … lists Anthony Carter as his favorite wide receiver.
Offense
| Season | Team | G | GS | Tgt | Rec | Rec Yds | Rec Avg | Rec TD | Lng | Fum | FR | KR | KR Yds |
| --- | --- | --- | --- | --- | --- | --- | --- | --- | --- | --- | --- | --- | --- |
| 1989 | Ohio State | 12 | 7 | NA | 9 | 159 | 17.7 | 0 | 26 | 0 | 1 | 1 | 18 |
| 1990 | Ohio State | 0 | 0 | 0 | 0 | 0 | 0 | 0 | 0 | 0 | 0 | 0 | 0 |
| 1991 | Ohio State | 6 | 0 | 0 | 0 | 0 | 0 | 0 | 0 | 0 | 0 | 0 | 0 |
| 1992 | Ohio State | 12 | 0 | 28 | 14 | 153 | 10.9 | 2 | 25 | 0 | 0 | 0 | 0 |
| Total | - | 30 | 7 | 28 | 23 | 312 | 13.6 | 2 | 26 | 0 | 1 | 1 | 18 |