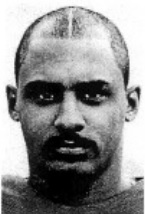 Nationality

United States

Position

FL, SE, ST, TB

Birthday

3/6/1966

Hometown

Columbus, OH

High School

Eastmoor

Height

5'11"

Weight

188

Current Team

Ohio State

Seasons

1985, 1986, 1987, 1988
Jersey #: 5 (1986-88), 48 (1985)
Major: Recreation Education (1988)
Weight: 188 (1988), 180 (1985-87)
1988 Media Guide: A sure-handed, speedy receiver who is OSU's best home run threat … started the first three games of 1987 at flanker but then moved to split end  … came to Ohio State as a tailback, but switched to wide receiver in the spring of his freshman year … has won two letters.
1987: The Buckeyes' leading receiver with 29 receptions for 585 yards and five touchdowns … his 20.2 yards-per-catch average ranked second in the Big Ten … hauled in a career-high seven passes for 92 yards at Wisconsin and a week later grabbed four passes for 123 yards and two touchdowns against Iowa … had a 79-yard TD reception against Michigan State on the Buckeyes' first play from scrimmage … seventh in the Big Ten in punt returns last year with an average of 8.3 per runback … suffered a concussion on a punt return at Purdue and missed the ensuing game with Minnesota.
1986: 15 receptions for 291 yards as a sophomore, alternating with Nate Harris at flanker … his average of 19.4 yards per reception was the highest on the team.
1986 Media Guide: Came to Ohio State as a tailback but moved to flanker to ease a manpower shortage … Buckeyes coaches believe he is a threat to go deep … has good speed and sure hands … ran a few plays at tailback in spring practice … unusually versatile.
1985: Returned punts and kickoffs but did not catch a pass … earned a letter.
1985 Media Guide: Could play wide receiver or in the secondary as well as running back … has outstanding speed and a deceptive, shifty running style … although basically an outside runner, he has surprising power … runs the 40 in 4.5.
High School: An all-state running back at Eastmoor, the same school that produced OSU's Archie Griffin … a first-team all-Ohio halfback in 1984 … veteran Eastmoor Coach Bob Stuart calls Ross, "One of the most versatile athletes I have coached".
Personal: One of two married players on the team … runs the 40 in 4.5 and has a deceptive running style.
Offense
| Season | Team | G | GS | Comp | Pass Att | Pass TD | Pass Int | Rush Att | Rush Yds | Rush Avg | Rush TD | Rec | Rec Yds | Rec Avg | Rec TD | Lng | Fum | Lost | FR | KR | KR Yds | KR Avg | KR TD | PR | PR Yds | PR Avg | PR TD |
| --- | --- | --- | --- | --- | --- | --- | --- | --- | --- | --- | --- | --- | --- | --- | --- | --- | --- | --- | --- | --- | --- | --- | --- | --- | --- | --- | --- |
| 1985 | Ohio State | 11 | 0 | 0 | 0 | 0 | 0 | 0 | 0 | 0 | 0 | 0 | 0 | 0 | 0 | 0 | 0 | 0 | 0 | 3 | 43 | 14.3 | 0 | 2 | 20 | 10.0 | 0 |
| 1986 | Ohio State | 13 | 0 | 0 | 1 | 0 | 1 | 3 | 16 | 5.3 | 0 | 15 | 291 | 19.4 | 2 | 38 | 4 | 0 | 1 | 8 | 141 | 17.6 | 0 | 35 | 296 | 8.4 | 0 |
| 1987 | Ohio State | 10 | 9 | 0 | 0 | 0 | 0 | 1 | 5 | 5.0 | 0 | 29 | 585 | 20.2 | 5 | 79 | 3 | 2 | 2 | 4 | 79 | 19.8 | 0 | 20 | 166 | 8.3 | 0 |
| Total | - | 34 | 9 | 0 | 1 | 0 | 1 | 4 | 21 | 5.3 | 0 | 44 | 876 | 19.9 | 7 | 79 | 7 | 2 | 3 | 15 | 263 | 17.5 | 0 | 57 | 482 | 8.5 | 0 |
Defense
| Season | Team | G | GS | Tkl | Solo | Asst | FR | KR | KR Yds | KR Avg | KR TD | PR | PR Yds | PR Avg | PR TD |
| --- | --- | --- | --- | --- | --- | --- | --- | --- | --- | --- | --- | --- | --- | --- | --- |
| 1985 | Ohio State | 11 | 0 | 5 | 2 | 3 | 0 | 3 | 43 | 14.3 | 0 | 2 | 20 | 10.0 | 0 |
| 1986 | Ohio State | 13 | 0 | 0 | 0 | 0 | 1 | 8 | 141 | 17.6 | 0 | 35 | 296 | 8.4 | 0 |
| 1987 | Ohio State | 10 | 9 | 3 | 3 | 0 | 2 | 4 | 79 | 19.8 | 0 | 20 | 166 | 8.3 | 0 |
| Total | - | 34 | 9 | 8 | 5 | 3 | 3 | 15 | 263 | 17.5 | 0 | 57 | 482 | 8.5 | 0 |