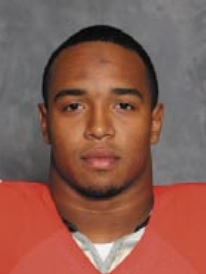 Nationality

United States

Position

ILB, ST

Hometown

Sunny Isles, FL

High School

Dr. Krop

Height

6'3"

Weight

237

Past Teams

Ohio State

Seasons

2008, 2009, 2010, 2011, 2012
Pronunciation: eighty-yen sah-BEE-no
Jersey #: 6 (2009-12), 11, 6 (2008)
Major: Family Resource Management (2010-12), Business Administration (2009)
Weight: 237 (2012), 242 (2011), 240 (2010), 232 (2008-09)
2012 Media Guide: Etienne is a fifth-year leader on this team who has played in 39 games, started five times and earned three Varsity O letters … after red-shirting the 2010 season, he played in all 13 games for the Buckeyes in 2011 and started five times at linebacker (Miami, Colorado, Illinois, Purdue and Florida) … was one of the team's top five tacklers with 62 stops in 2011 … had high games of eight tackles three times: vs. Toledo, Miami and Michigan … he also had 6.5 tackles for loss (for minus 27 yards), including quarterback sacks vs. Akron and Toledo, respectively … named Ohio State's MVP in the TaxSlayer.com Gator Bowl with four tackles, including two TFLs for losses totaling seven yards … Etienne played in all 13 games as a true freshman in 2008 and again in 2009.
2011 Media Guide: Worked this spring at mike linebacker.
2010: Redshirted the 2010 campaign … scout team workhorse: Indiana.
2010 Media Guide: Talented linebacker who has improved with game experience … has added strength and bulk during the offseason to his excellent strength and athletic skills … will work this spring at sam linebacker along with Jon Newsome.
2009: Reserve linebacker … 5-yard sack in the Toledo game … special teams player of week: Minnesota … Top Ten Tenacious four times … second-year letterwinner.
2009 Media Guide: Talented young linebacker who has improved with game experience … excellent strength and athletic skills … worked during the spring at sam linebacker behind Tyler Moeller.
2008: Earned increased time on special teams as a true freshman … six tackles for year … backed up James Laurinaitis with the injury to Austin Spitler … took a blocked punt 20 yards in the first quarter against Purdue for that game's only touchdown … special teams champion: Minnesota, Purdue
… Jack Tatum big hit: Troy, Minnesota … special teams dog tags: Troy, Minnesota, Wisconsin, Purdue … enrolled at OSU in March … first-year letterman.
High School: Highly ranked inside linebacker prospect … enrolled at OSU in March … first team all-Florida and all-Dade County … 146 tackles, seven sacks, five forced fumbles, one interception … U.S. Army All-American Bowl … Top 100 national ranking from ESPN, Rivals, Scout, PrepStar, Superprep … Atlanta Journal-Constitution "Super Southern 100" … EA Sports All-America …district discus champion … also a basketball letterman … honor roll student.
Personal: Son of Agatha Rijo … is best at making steak … most interesting American from history is Harriet Tubman … favorite international cuisine is Spanish.
Defense
| Season | Team | G | GS | Tkl | Solo | Asst | TFL | TFL Yds | Sacks | Sack Yds | FF | FR | Int | Int Yds | PBU | Blk | Def TD |
| --- | --- | --- | --- | --- | --- | --- | --- | --- | --- | --- | --- | --- | --- | --- | --- | --- | --- |
| 2008 | Ohio State | 13 | 0 | 6 | 4 | 2 | 0 | 0 | 0 | 0 | 0 | 0 | 0 | 0 | 0 | 0 | 1 |
| 2009 | Ohio State | 13 | 0 | 6 | 3 | 3 | 0.5 | 5 | 0.5 | 5 | 0 | 0 | 0 | 0 | 0 | 0 | 0 |
| 2011 | Ohio State | 13 | 5 | 62 | 39 | 23 | 6.5 | 27 | 2.0 | 12 | 0 | 0 | 0 | 0 | 1 | 0 | 0 |
| Total | - | 39 | 5 | 74 | 46 | 28 | 7 | 32 | 2.5 | 17 | 0 | 0 | 0 | 0 | 1 | 0 | 1 |