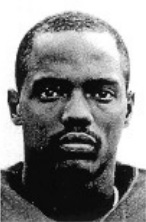 Nationality

United States

Position

ST, CB, S

Birthday

9/1/1966

Hometown

Middletown, OH

High School

Middletown

Height

5'11"

Weight

180

Past Teams

Ohio State

Seasons

1984, 1985, 1986, 1987, 1988
Major: Sociology (1988), Communications (1987), Business Management (1984-85)
Weight: 180 (1984-88)
1988 Media Guide: Dwight Smith is a fifth-year senior … has been used in a backup role throughout his career, but emerged from spring drills as a starter … has quick reactions and is a hard hitter … dedicated to making this his best year.
1987: Played a total of 28 minutes in 10 games and had eight tackles … five of those tackles came at Purdue, where he played 18 of the 28 minutes he logged in 1987.
1986: Played in seven games as a reserve safety and had 10 tackles with one pass break up.
1986 Media Guide: Can play various positions in the secondary, but figures to be used as a top replacement at one of the corner positions … hit hard for his size and is a sure tackler … has good speed and quick reactions, vital qualities for a defensive back.
1985: Saw limited action in four games, chiefly with the specialty teams.
1985 Media Guide: Can play anywhere in the secondary but likely will be used as a safety behind Terry White … has good speed, quick reactions and is a sure tackler, all vital ingredients for playing the secondary … one of six members of the Buckeye squad from Middletown, including three in his high school class of 1984.
1984: Redshirted.
1984 Media Guide: Has good speed and is a sure tackler … can play either cornerback or safety.
High School: Was a standout on two good Middletown football and basketball teams … played in the North-South All-Star Game … played fullback on offense and safety on defense.
Personal: From a family of five.
Defense
| Season | Team | G | GS | Tkl | Solo | Asst | TFL | TFL Yds | Sacks | Sack Yds | FF | FR | Int | Int Yds | PBU | Blk | Def TD |
| --- | --- | --- | --- | --- | --- | --- | --- | --- | --- | --- | --- | --- | --- | --- | --- | --- | --- |
| 1985 | Ohio State | 4 | 0 | 2 | 1 | 1 | 0 | 0 | 0 | 0 | 0 | 0 | 0 | 0 | 0 | 0 | 0 |
| 1986 | Ohio State | 7 | 0 | 10 | 6 | 4 | 0 | 0 | 0 | 0 | 0 | 0 | 0 | 0 | 1 | 0 | 0 |
| 1987 | Ohio State | 10 | 0 | 8 | 2 | 6 | 0 | 0 | 0 | 0 | 0 | 0 | 0 | 0 | 1 | 0 | 0 |
| 1988 | Ohio State | 8 | 7 | 30 | 12 | 18 | 0 | 0 | 0 | 0 | 0 | 0 | 2 | 23 | 2 | 0 | 0 |
| Total | - | 29 | 7 | 50 | 21 | 29 | 0 | 0 | 0 | 0 | 0 | 0 | 2 | 23 | 4 | 0 | 0 |