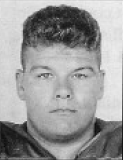 Nationality

United States

Position

C, OG, OT

Birthday

4/2/1977

Hometown

Garfield, NJ

High School

St. Mary's

Height

6'5"

Weight

300

Current Team

Ohio State

Seasons

1995, 1996, 1997, 1998, 1999
Major: Sociology (1999), Industrial Design (1997), Undecided (1995-96)
Weight: 300 (1997-99), 277 (1996), 295 (1995)
1999 Media Guide: Drew Elford, coming off a junior season in which he played in 11 games, was in the midst of a productive spring while vying for more playing time this fall when an injury to his lower back ended his spring drills. Elford, one of the more carefree players on the team who isn't afraid to establish his own trends, is expected to be back in the hunt for playing time at either center or guard this fall. He possesses enough versatility that he could play some at tackle. He is a veteran of 29 games and 125 minutes played and he has improved each year in the program.
1998 Media Guide: Spent the season as the backup center to Kurt Murphy after an early season ankle injury limited his practice time. Did see action in 11 games for a total of 34 minutes, with season-highs of five minutes vs. Toledo, Indiana, Illinois and Iowa and four minutes vs. Penn State.
1997 Media Guide: Emerged from spring practice as a solid backup on the right side and should see more playing time this year … has size, strength and mobility on his side, just needs experience … can also play tackle.
1996: Played a total of 46 minutes in six games last year as a backup to LeShun Daniels … longest stint was 15 minutes against Pittsburgh.
1996 Media Guide: Reserve offensive guard … will vie for playing time on the right side behind three-year regular LeShun Daniels … did not see any playing time last year as a true freshman … had a good winter in terms of conditioning and headed into spring practice as a possible backup to Daniels, but a fractured left ankle on Apr. 5 put him on the sidelines for the rest of spring ball … considered one of the top offensive linemen in East coming out of high school … can also play tackle.
High School: Won all-state honors and was considered one of the top offensive linemen in the East last year … four-year starter at offensive tackle and three-year starter on defense … helped St. Mary's to the state championship playoffs his sophomore and senior seasons … also earned three letters each in basketball and track … was a member of the National Honor Society and was nominated for a National Football Foundation and Hall of Fame Scholarship … class president and student council president as a senior.
Personal: Hobbies are skiing, travel, scuba diving, sketching and building and racing remote-control cars … plans to major in aerospace or aeronautical engineering … chose Ohio State because of its football tradition and its engineering school.
Offense
| Season | Team | G | GS |
| --- | --- | --- | --- |
| 1996 | Ohio State | 6 | 0 |
| 1997 | Ohio State | 11 | 0 |
| 1998 | Ohio State | 11 | 0 |
| Total | - | 28 | 0 |