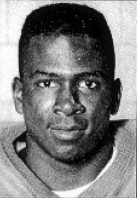 Nationality

United States

Position

DB, FS, SS

Height

5'11"

Weight

170

Birthday

5/24/1972

Hometown

Aliquippa, PA

High School

Aliquippa

Current Team

Ohio State

Seasons

1990, 1991, 1992, 1993, 1994
Post-OSU Update: After graduating from Ohio State, Tim Patillo served as Assistant Director of Football Operations for the Buckeyes (1998-2002). He then entered a career in auto sales. Read More (Updated: 2021)
Pronunciation: pah-TILL-oh
Major: Sociology (1994), Criminology (1992-93), Business (1991)
Jersey #: 21 (1991-94), 47 (1990)
Weight: 178 (1994), 170 (1993), 180 (1992), 170 (1990-91)
1994 Media Guide: The leading candidate to take replace Walter Taylor at free safety this year … played nickel and was Taylor's backup last year … utility player who can play any of the defensive secondary positions … had career highs in tackles (19) and interceptions (3) last year … the three picks were his first three for the Buckeyes … has played in 33 games during his career,
but has never started … tough as they come pound-for-pound.
1993: Played in all 12 games for a total of 71 minutes … 14 minutes at Pittsburgh and 10 at Purdue were his longest stints … four tackles at Pittsburgh was his top game … interceptions came against Rice, Washington and Northwestern … blocked a punt and returned it 20 yards for a touchdown for OSU's first score against BYU in the Holiday Bowl.
1993 Media Guide: Two-year letterman who will back up Walter Taylor … good utility player, who can play any of the defensive backfield positions … saw brief action in nine games last year, playing a total of 24 minutes, much of that time coming as a member of the special teams … two tackles last year, both against Iowa … spent most of his time at strong safety as a freshman and appeared in all 12 games … three tackles against Washington State, Minnesota and Michigan were his top games as a freshman, and nine minutes against the Cougars and Gophers were his longest stints … redshirted in 1990.
1992 Media Guide: Patillo will back up Roger Harper at strong safety … played a total of 65 minutes in 12 games last year … nine minutes against both Washington State and Minnesota were his longest stints … finished the season with 15 tackles – eight solos and seven assists … three tackles against Washington State, Minnesota and Michigan were his top games … good utility player who can play any of the secondary positions … also a fine special teams player.
1991 Media Guide: Enters fall camp as the No. 3 safety and can play either strong or free safety … coaches would like him to concentrate on just one of the two (preferably strong), but he will have to do double duty until a suitable backup is found at free safety … good savvy and speed and hits a ton for his size … needs to be able to focus on just one position … will be used as a nickel back.
1990: Redshirted.
1990 Media Guide: A three-year starter at defensive back, helping Aliquippa to a combined record of 36-5 and three league titles during that time … an honorable mention all-state pick as a senior … intercepted a pair of passes in the end zone in the last two minutes of the league championship game last year, preserving Aliquippa's win … 74 tackles last year and 276 during his career … plans to study business and wants to be an accountant.
Defense
| Season | Team | G | GS | Tkl | Solo | Asst | TFL | FF | FR | Int | Int Yds | PBU | Blk | Def TD | PR | FC | PR Yds | PR TD |
| --- | --- | --- | --- | --- | --- | --- | --- | --- | --- | --- | --- | --- | --- | --- | --- | --- | --- | --- |
| 1990 | Ohio State | 0 | 0 | 0 | 0 | 0 | 0 | 0 | 0 | 0 | 0 | 0 | 0 | 0 | 0 | 0 | 0 | 0 |
| 1991 | Ohio State | 11 | 0 | 15 | 8 | 7 | 0 | 0 | 0 | 0 | 0 | 0 | 0 | 0 | 0 | 0 | 0 | 0 |
| 1992 | Ohio State | 6 | 0 | 2 | 1 | 1 | 0 | 0 | 0 | 0 | 0 | 0 | 0 | 0 | 0 | 0 | 0 | 0 |
| 1993 | Ohio State | 12 | 0 | 19 | 12 | 7 | 0 | 0 | 0 | 3 | 37 | 0 | 1 | 1 | 1 | 0 | 20 | 0 |
| 1994 | Ohio State | 13 | 13 | 62 | 40 | 22 | 0 | 0 | 1 | 3 | 0 | 6 | 0 | 0 | 0 | 0 | 0 | 0 |
| Total | - | 42 | 13 | 98 | 61 | 37 | 0 | 0 | 1 | 6 | 37 | 6 | 1 | 1 | 1 | 0 | 20 | 0 |