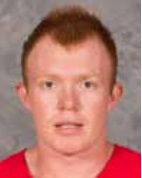 Nationality

Australia

Position

P

Height

6'0"

Weight

185

Hometown

Geelong, Australia

High School

St. Joseph's

Past Teams

Ohio State

Seasons

2013, 2014, 2015
Major: Sport Industry (2015)
Weight: 195 (2014-15), 185 (2013)
2015 Media Guide: Cameron Johnston has been outstanding in his two seasons as Ohio State's punter and his first two season's as a punter, ever … had not played football before arriving in the United States in the summer of 2013 … he has the third-best career punting average in school history – 44.5 yards – and he also owns the third-most punts downed inside the 20 (I20) in school history (57) … his placement has been particularly impressive, as he has ranked among the nation's leaders each year in percentage of punts downed I20 – first in 2013 and second in 2014 – and unofficially inside the 10 (I10) – first in 2013 and second in 2014 … by way of contrast, only seven of Johnston's 97 career punts have resulted in a touchback, and Ohio State's net punting average has been Top 5 in each of the past two seasons.
2014: Johnston was outstanding for the College Football Playoff national champions, averaging a Big Ten-best 45.1 yards off 48 punts while helping the team lead the Big Ten in net punting average at 41.8 … he was a semifinalist for the Ray Guy Award and was named honorable mention all-Big Ten … his average would have been in the Top 10 nationally, but Johnston did not have the NCAA minimum of 3.6 punts per game to qualify … unofficially, according to stats compiled by the FBS SIDs, Johnston ranked second nationally in both percentage of punts downed I20 (54.1 pct.; 26 of 48) and those downed I10 (31.2 pct.; 15 of 48) … produced four games with over a 50-yard punting average, including a Big Ten
championship game record average of 53.0 yards-per-punt … had a Big Ten title game record 73-yard punt vs. the Badgers … averaged 45.0 yards on six punts at Beaver Stadium vs. Penn State with four downed inside the 20 and two downed I10 … Penn State ultimately punted after each of Johnston's punts that were downed I20 … Johnston earned his second Varsity O letter.
2014 Media Guide: Ohio State needed a punter in the summer of 2013 and after Australian Rules Football player Cameron Johnston's tapes reached special team's coordinator Kerry Coombs, the coaches ultimately signed him to a National Letter of Intent to attend Ohio State and play for the Buckeyes … unsure about what they had in a punter outside of his impressive videos, Johnston was a delightful addition to the team despite never having punted competitively, much less in a game.
2013: Johnston led all Big Ten punters with a 44.0 per punt average – 16th-best nationally – and was named a second-team freshman All-American by College Football News … he lead the nation in percentage of punts downed inside the 20 at 63.3 percent (31 of 49) and he ranked second nationally with 28.6 percent of his punts downed inside the 10 (14 of 49) … almost 50 percent of his punts were fair caught (24 of 49) and, as a team, Ohio State was fifth nationally in net punting (40.8) … Johnston had a long kick of 71 yards and nine of his punts travelled over 50 yards … he was named Big Ten special teams player of the week after punting six times vs. Wisconsin and dropping all six inside the 20 and five inside the 10 … he broke the school single game record by averaging 57.0 yards per punt vs. Illinois (Tom Skladany had held the mark for 37 years with his 52.3 average in 1976 vs. Michigan) … Johnston bested his previous career long of 61 yards three times vs. Illinois, with his six punts travelling 63, 50, 64, 53, 71 and 41 yards.
2013 Media Guide: Cameron Johnston signed a National Letter of Intent to attend Ohio State and play for the Buckeyes in the summer of 2013 … a 21-year-old former Australian Rules Football player in his
home country, Johnston will be a true freshmen for the Buckeyes and will have four years to complete his four seasons of eligibility.
Pre-Ohio State: He came out of the Melbourne-based punter/kicker training ground Prokick Australia, where he trained under the tutelage of Nathan Chapman … Johnston joins a number of Prokick Australia alums in college football, including one other punter in the Big Ten: Minnesota junior Christian Eldred.
Defense
| Season | Team | G | GS | Tkl | Solo | Asst | Pt | Pt Yds | Punt Avg | TB | I20 | Pt Blkd |
| --- | --- | --- | --- | --- | --- | --- | --- | --- | --- | --- | --- | --- |
| 2013 | Ohio State | 13 | 0 | 0 | 0 | 0 | 49 | 2156 | 44.0 | 2 | 31 | 0 |
| 2014 | Ohio State | 15 | 0 | 0 | 0 | 0 | 48 | 2164 | 45.1 | 5 | 26 | 0 |
| Total | - | 28 | 0 | 0 | 0 | 0 | 97 | 4320 | 0 | 7 | 57 | 0 |