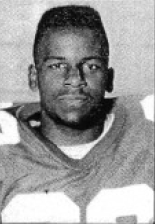 Nationality

United States

Position

TB

Birthday

9/29/1972

Hometown

St. Louis, MO

High School

Vashon

Height

5'11"

Weight

185

Current Team

Ohio State

Past Teams

Ohio State

Seasons

1990, 1991, 1992, 1993
Pronunciation: buh-NO-tay
Major: Business (1992-93), Undecided (1991)
Weight: 190 (1992-93), 185 (1991)
1993: Media Guide: One of several talented tailbacks who will battle for playing time again this year … has outstanding speed (the fastest among OSU tailbacks), giving the Buckeyes a home run threat … worked hard on becoming an effective inside runner during spring practice, and the coaching staff was pleased with his improvement … an open-field threat who will also be used as a receiver out of the backfield … also a dangerous return man … was a key backup at tailback last season along with Raymont Harris … appeared in all 12 games and started against Bowling Green … top game was 89 yards against Northwestern … ended the season with 283 yards on 58 carries … scored his lone touchdown of the season at Michigan State, when he turned an inside play outside and cut down the left sidelines 15 yards untouched … had a 39-yard rush against Northwestern and a 36 yarder vs. Louisville … caught six passes for 62 yards and led the team with a 27.3 average on seven kickoff returns, which included a 43-yard return at Iowa.
1992: Media Guide: The Buckeyes' fastest back and leading returning rusher … started five times last year and finished the season with 648 yards and five touchdowns … second to Carlos Snow (828 and nine) in both categories … good cut-back runner who squirts past defenders before they can get a clean shot at him … made his first collegiate start in the 1991 season opener against Arizona and responded by rushing for 189 yards and a touchdown on 26 carries … also had 90 yards against Washington State and 71 against Illinois … started four of the first six games and had 501 yards in that stretch … 101 of his 152 carries and four of his six touchdowns came in the first five games … lone start the second half of the season was at Minnesota, where he rushed for 70 yards and a TD on 17 carries … used as a backup to Snow the last six games and was a very effective change-of-pace back … 57-yard run against Arizona was his longest of the year … has proven to be surprisingly durable for his size … ran track in the spring and missed most of spring ball, but his experience and familiarity with the system should be enough to offset the missed time … can also return kicks and is a sure-handed receiver.
1991: Media Guide: Projected himself into contention for the starting tailback spot with a great spring … quick, clever back with surprising power … has great balance, is a good cutback runner, and isn't afraid to lower his shoulder and fight for extra yardage … backed up Robert Smith last year and had 239 yards on 53 carries … top game was 57 yards against Northwestern … had has longest run of the year against Minnesota, a 20 yard jaunt … scored his lone touchdown on a two-yard run against Purdue … also a dangerous kick returner … lists Roger Craig and his mother as two of the people he most admires … hobbies include playing basketball and listening to music.
1990: Media Guide: The top running back in Missouri and one of the best in the Midwest … fine senior year, rushing for 1,231 yards and 13 touchdowns on 174 carries … all-state choice and the St. Louis Sentinel Offensive Player of the Year … averaged 37 yards per catch as a senior… a burner with 4.37 speed in the 40-yard dash … helped Vashon to a 9-2 record last year… also a standout defensive back.
Offense
| Season | Team | G | GS | Rush Att | Rush Yds | Rush TD | Tgt | Rec | Rec Yds | Rec TD | Lng | Fum | Lost | FR | KR | KR Yds | KR TD | PR | FC | PR Yds | PR TD |
| --- | --- | --- | --- | --- | --- | --- | --- | --- | --- | --- | --- | --- | --- | --- | --- | --- | --- | --- | --- | --- | --- |
| 1990 | Ohio State | 8 | 0 | 44 | 206 | 1 | 6 | 4 | 8 | 0 | 20 | 0 | 0 | 0 | 1 | 22 | 0 | 0 | 0 | 0 | 0 |
| 1991 | Ohio State | 12 | 3 | 152 | 648 | 5 | 10 | 6 | 27 | 0 | 57 | 3 | 1 | 2 | 1 | 8 | 0 | 1 | 0 | 43 | 0 |
| 1992 | Ohio State | 11 | 2 | 58 | 283 | 1 | 8 | 6 | 62 | 0 | 39 | 0 | 0 | 0 | 7 | 191 | 0 | 0 | 0 | 0 | 0 |
| 1993 | Ohio State | 11 | 0 | 96 | 474 | 4 | 4 | 3 | 1 | 0 | 49 | 1 | 1 | 0 | 13 | 359 | 1 | 0 | 0 | 0 | 0 |
| Total | - | 42 | 5 | 350 | 1611 | 11 | 28 | 19 | 98 | 0 | 165 | 4 | 2 | 2 | 22 | 580 | 1 | 1 | 0 | 43 | 0 |