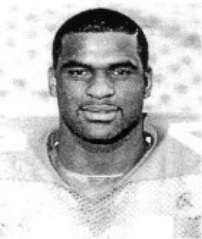 Nationality

United States

Position

FB

Birthday

12/8/1964

Hometown

Wyandanch, NY

High School

Wyandanch

Height

6'2"

Weight

246

Past Teams

Ohio State

Seasons

1984, 1985, 1986, 1987
Major: Hotel & Restaurant Management (1986-87), Computer Science (1984)
Weight: 246 (1986-87), 238 (1985), 234 (1984)
1987: Did not have a rush that was stopped for negative yards, despite carrying the ball 86 times.
1987 Media Guide: A starter the past two seasons, rushing for 581 yards in 1985 and 467 in '86 … has averaged 4.3 yards per carry over a three-year career … has started all 25 games the past two seasons … used chiefly as a blocker … his top games have been against Iowa in 1985, when he ran for 104 yards and in the 1986 Utah game, when he scored four touchdowns on eight carries … caught 16 passes each of the past two years.
1986 Media Guide: Missed spring practice because of minor surgery to his knee and a bone graft operation on his wrist.
1985: Started all 12 games and was Ohio State's leading rusher with 581 yards on 129 carries … his top game was a 104 yard effort against Iowa, ranked number one nationally at the time … caught 16 passes.
1985 Media Guide: After injuries took down two Buckeye fullbacks in spring drills, Cooper again took over and performed well … he netted 83 yards on 24 tries in the two spring games and now figures to be a starter.
1984: Buckeye coaches had planned to redshirt Cooper, but when the top two fullbacks were injured in the span of five minutes of the Illinois game, he was pressed into service … he played in four games and drew a starting assignment against Michigan State … averaged 4.5 yards per try on 11 carries.
1983: Reported to Ohio State in the fall of 1983 but a shoulder injury required surgery and he did not enroll until the winter of 1984.
High School: An all-New York and all-American tailback at Wyandanch High, where he ran for 1,324 yards on 126 carries (10.5 avg.) and scored 13 touchdowns as a senior … won nine high school letters … member of the National Honor Society.
Personal: Hobbies are basketball and swimming … admires Tony Dorsett and Julius Erving … from a family of seven.
Offense
| Season | Team | G | GS | Rush Att | Rush Yds | Rush Avg | Rush TD | Rec | Rec Yds | Rec Avg | Rec TD | Lng | Fum | Lost | FR |
| --- | --- | --- | --- | --- | --- | --- | --- | --- | --- | --- | --- | --- | --- | --- | --- |
| 1984 | Ohio State | 4 | 1 | 11 | 49 | 4.5 | 0 | 0 | 0 | 0 | 0 | 8 | 0 | 0 | 0 |
| 1985 | Ohio State | 12 | 12 | 129 | 581 | 4.5 | 3 | 16 | 130 | 8.1 | 1 | 27 | 3 | 2 | 1 |
| 1986 | Ohio State | 13 | 13 | 113 | 467 | 4.1 | 6 | 16 | 156 | 9.8 | 0 | 19 | 3 | 3 | 0 |
| 1987 | Ohio State | 11 | 10 | 86 | 347 | 4.0 | 2 | 22 | 206 | 9.4 | 1 | 22 | 1 | 0 | 0 |
| Total | - | 40 | 36 | 339 | 1444 | 4.3 | 11 | 54 | 492 | 9.1 | 2 | 27 | 7 | 5 | 1 |