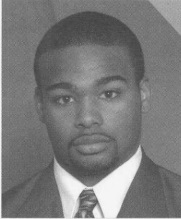 Nationality

United States

Position

DB, FS

Birthday

5/30/1987

Hometown

Atlanta, GA

High School

Marist

Height

6'0"

Weight

205

Past Teams

Ohio State

Seasons

2005, 2006, 2007, 2008, 2009
Post-OSU Update: Anderson Russell was not selected in the 2010 NFL Draft, but he did see time in the NFL. He played two games in 2010 with Washington, making two tackles. In 2012, Russell played six games with two different teams, Carolina and Miami. (updated: Jun. 2023)
Jersey #: 21 (2006-09), 37 (2005)
Major: Communication (2008-09), Undeclared (2005-07)
Weight: 205 (2008-09), 190 (2005-07)
2009 Media Guide: Veteran third-year starter who can play either safety position and the nickel … will be a leader on the Ohio State defense … an intelligent player who studies and learns the game … graduated in June.
2008: 67 tackles for the year as the starting free safety … 15-yard interception and six tackles against Ohio … eight tackles at USC … forced two Minnesota fumbles, recovering one … also had seven stops against the Gophers … seven tackles at Wisconsin … pair of tackles and a pass breakup at Michigan State … nine tackles against Penn State … recovered a Northwestern fumble and made nine tackles
… three tackles and a PBU in Michigan win … nine tackles, an interception and forced a fumble in the Fiesta Bowl … defensive champion: Minnesota.
2008 Media Guide: Talented defender with plenty of experience … timed at 4.4 in the 40-yard dash.
2007: Came back from knee surgery with an outstanding campaign … first team all-Big Ten (Rivals) … fourth on team with 63 tackles for season … seven TFL, three sacks, five PBU for 2007 … seven tackles in the win over Youngstown State … eight tackles at Washington … sack and a forced fumble in Northwestern win … pair of sacks (-18) in the Purdue victory … six tackles in win at Penn State … eight tackles vs. Wisconsin … Jim Marshall "Warrior" award … second-year letterman.
2007 Media Guide: Talented young defender who earned a starting job at free safety in 2006 but suffered a season-ending knee injury in the win at Iowa … can play either safety position and could also be the nickel back … coaches like his 110 percent energy level… is an intelligent player who learns quickly.
2006:  Moved up the depth chart throughout preseason, then a six-tackle effort against Northern Illinois in the season-opener vaulted him into the starting role at free safety in week two at Texas … injured his knee in week five at Iowa and missed the rest of the season … finished with 16 tackles in his five games, eight of which were solos … notched his first collegiate interception in the win over the Bearcats … had a tackle behind the line of scrimmage against NIU.
2006 Media Guide: Talented young defender who will figure in the rotation at safety in 2006 … was redshirted last year as a true freshman … projected himself into the picture for playing time with a strong spring showing … heads into the fall listed behind Jamario O'Neal at strong safety … can play either safety position and could also be the nickel back … coaches like his 110 percent energy level and compare him to last year's starter and first-round NFL draft pick Donte Whitner in that regard … is an intelligent player who learns quickly … will be hard to keep off the field if he continues to improve in the fall at the same rate he did in the spring … timed at 4.4 in the 40-yard dash.
2005: Played with the scout team and did not see any game action … impressed the coaching staff with his work ethic and understanding of what was expected of him … came close to being thrown into the fray a couple of times, but was ultimately redshirted.
High School: Outstanding athlete who can play several positions … averaged 8.4 yards per carry as a senior on 90 attempts … named one of Georgia's 50 best players by the Atlanta Journal-Constitution … rushed for 758 yards and scored 14 touchdowns as a senior in Marist's wishbone offense … was Marist's leading receiver with seven catches for 171 yards and three touchdowns … averaged 19.1 yards on kickoff returns … ran a 4.4 second 40-yard dash at the Ohio State camp last summer … joins Atlanta native Brandon Mitchell on the OSU roster … played for Alan Chadwick.
Personal: Is the son of Kevin and Karen Russell … current OSU graduate assistant Paul Nichols was a quarterback at Marist before playing college football at Davidson … his older brother, Brandon, played football at North Carolina and played with Nichols at Marist … his father, Kevin, also played college football and played for the Philadelphia Eagles … nickname is "A-Russ" … favorite actress is Gabrielle Union … dream vacation is Dominican Republic … favorite NFL player is Steve Smith … favorite former Buckeye is Archie Griffin.
Defense
| Season | Team | G | GS | Tkl | Solo | Asst | TFL | TFL Yds | Sacks | Sack Yds | FF | FR | Int | Int Yds | PBU | Blk | Def TD | KR | KR Yds | KR Avg | KR TD |
| --- | --- | --- | --- | --- | --- | --- | --- | --- | --- | --- | --- | --- | --- | --- | --- | --- | --- | --- | --- | --- | --- |
| 2006 | Ohio State | 5 | 0 | 16 | 8 | 8 | 1.0 | 1 | 0 | 0 | 0 | 0 | 1 | 0 | 0 | 0 | 0 | 0 | 0 | 0 | 0 |
| 2007 | Ohio State | 13 | NA | 63 | 38 | 25 | 7.0 | 29 | 3.0 | 23 | 1 | 0 | 0 | 0 | 5 | 0 | 0 | 2 | 47 | 23.5 | 0 |
| 2008 | Ohio State | 13 | NA | 67 | 38 | 29 | 0 | 0 | 0 | 0 | 3 | 2 | 2 | 15 | 3 | 0 | 0 | 0 | 0 | 0 | 0 |
| 2009 | Ohio State | 13 | NA | 49 | 31 | 18 | 2.0 | 5 | 0 | 0 | 1 | 1 | 3 | 16 | 3 | 0 | 0 | 1 | -2 | 0 | 0 |
| Total | - | 44 | NA | 195 | 115 | 80 | 10 | 35 | 3 | 23 | 5 | 3 | 6 | 31 | 11 | 0 | 0 | 3 | 45 | 0 | 0 |