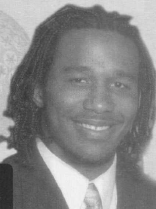 Nationality

United States

Position

DB, FS, ST

Height

6'3"

Weight

190

Birthday

10/26/1983

Hometown

Atlanta, GA

High School

Mays

Current Team

Ohio State

Seasons

2002, 2003, 2004, 2005, 2006
Post-OSU Update: After earning a second-team All-Big Ten selection for the 2006 season, Brandon Mitchell was not selected in the 2007 NFL Draft. He spent time with two NFL teams, but did not play a regular season game. After his football career, Mitchell earned a J.D. at Ohio State and began to practice law. He is currently working as the corporate secretary and associate general counsel for an insurance company. (Updated: Mar. 2023)
Major: Graduate Studies (2006), Political Science (2003-05)
Weight: 205 (2004-06), 190 (2003)
2006 Media Guide: Veteran defensive back expected to contend for a starting spot this year … has played in 33 games and has eight career starts … has good size and speed and closes quickly on the ball carrier … can play either free or strong safety and gives the coaches options because of his versatility … starts on the punt return, punt coverage and hands team … is a very knowledgeable football player … three varsity letters and a three-time OSU Scholar-Athlete.
2005: Started the Illinois, Northwestern and Michigan games at nickel back … has a season-high five tackles in the win over Northwestern … also had two tackles against Miami, Michigan State and Illinois and one stop at Michigan … scored his first OSU touchdown at Indiana on a 57-yard interception return that put Ohio State comfortably in front, 31-10, with 4:44 to go in the third quarter.
2005 Media Guide: Veteran defensive back who has earned two letters as a key reserve and part-time starter the past two years … has excellent speed and can play either safety position … has also been used at nickel back and is one of the Buckeyes' most physical defenders … is a starter on the punt return team and a member of the punt coverage and hands teams … has five career starts – two last year and three in 2003 – and has appeared in 22 games … two-year letter winner … was one of two Ohio State athletes named to the search committee charged with finding a successor for Director of Athletics Andy Geiger, who announced his retirement last January … good player who gives the coaching staff options in the secondary and is always ready to help out the team … a favorite of the fans because of his physical style … OSU scholar-athlete … graduated in June of 2005 and will begin graduate school in the fall.
2004: Played in all 12 games and started at Michigan State and Purdue … finished the year with 15 tackles, eight solo stops and seven assists … picked off Michigan State quarterback Damon Dowdell in the end zone to end the game, recording his second career interception … six tackles at MSU equaled his career high … had three tackles in the Alamo Bowl.
2004 Media Guide: Talented young player that gives Ohio State several options in the defensive secondary … can play safety or nickel back … started the first three games of the 2003 season and played in a total of 11 games … notched his first collegiate interception in the Buckeyes' win vs. North Carolina State … also a valuable member of the special teams … has quickly developed a reputation as an outstanding hitter and is one of the players OSU fans now look for on kickoff coverage … a two-time OSU Scholar Athlete.
2003 Season: Finished the season with 19 tackles, including 12 solos … started at free safety in the season opener vs. Washington and had three tackles and one pass break up … started again a week later vs. San Diego State and recorded six tackles, including five solo stops, a TFL and a fumble recovery … started at nickel back in week three vs. North Carolina State and played a season-high 25 minutes.
2003 Media Guide: Brandon Mitchell is a talented young defender who will figure in the rotation at safety this fall … was redshirted last year … is a physical player with a fine work ethic and nose for the ball … has good size and excellent speed to go along with outstanding strength … heads into the fall at free safety, but can play either of the safety positions … also expected to make a significant contribution on special teams … is a good young player, who will become even better as he gains experience.
2002 Season: Redshirted.
High School: Regarded as one of the top all-around athletes in Georgia … played both wide receiver and defensive back … had 34 receptions for 703 yards and nine touchdowns as a senior and was listed by the Atlanta Journal Constitution as one of the top five receivers in the state … also had 65 tackles and nine interceptions last year … selected to play in the Florida-Georgia All-Star game and had six tackles … also ran track and is a standout in both the 200- and 400-meter runs … high school coach – Floyd Mack.
Personal: Parents are Ida and Marquis Mitchell … siblings are DJ, David, Leonard and Michell … lists winning the city championship when he was 8-years old as his favorite football memory to date … favorite pro sports team is the Los Angeles Lakers … his favorite place on campus is Ohio Stadium … favorite sportscaster is ESPN's Stuart Scott … loves to shop … favorite Ohio State tradition is Script Ohio … enjoys the latest in men's fashions and always dresses well … received his degree in political science in Winter Quarter of 2005 and plans to attend law school after football is finished … likes to engage in "spirited" discussions on social issues and watch ESPN … born Oct. 26, 1983.
Defense
| Season | Team | G | GS | Tkl | Solo | Asst | TFL | TFL Yds | Sacks | Sack Yds | FF | FR | Int | Int Yds | PBU | Blk | Def TD |
| --- | --- | --- | --- | --- | --- | --- | --- | --- | --- | --- | --- | --- | --- | --- | --- | --- | --- |
| 2003 | Ohio State | 11 | 3 | 19 | 12 | 7 | 1 | 1 | 0 | 0 | 0 | 0 | 1 | 0 | 3 | 0 | 0 |
| 2004 | Ohio State | 12 | 2 | 15 | 8 | 7 | 0 | 0 | 0 | 0 | 0 | 0 | 1 | 0 | 2 | 0 | 0 |
| 2005 | Ohio State | 11 | 3 | 12 | 8 | 4 | 0 | 0 | 0 | 0 | 0 | 0 | 1 | 57 | 0 | 0 | 1 |
| 2006 | Ohio State | 13 | NA | 60 | 34 | 26 | 4.0 | 9 | 0 | 0 | 0 | 0 | 2 | 59 | 4 | 0 | 1 |
| Total | - | 47 | NA | 106 | 62 | 44 | 5 | 10 | 0 | 0 | 0 | 0 | 5 | 116 | 9 | 0 | 2 |