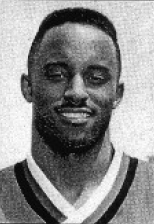 Nationality

United States

Position

FL

Birthday

5/01/1970

Hometown

Cincinnati, OH

High School

Princeton

Height

6'3"

Weight

197

Current Team

Ohio State

Past Teams

Ohio State

Seasons

1989, 1990, 1991, 1992
Major: Psychology (1991-92)
Weight: 200 (1991-92), 197 (1990), 160 (1988)
1992: Media Guide: Reserve receiver, who ended up spring ball as the No. 3 wide out … will be used as a back up to Joey Galloway and as a third wide receiver when the Buckeyes go to "trips" … played in all 12 games last year … lone catch was a 15-yard reception against Louisville … also plays on special teams … was a soccer player and a placekicker in high school, but prior to committing to Ohio State had never played wide receiver … walked on in 1988 and was redshirted … was converted to scholarship in the spring of 1991 … good athlete who will provide quality depth … has gained 40 pounds since coming to OSU.
1991: Media Guide: Talented walk-on who will battle for a spot on the OSU depth chart behind Bernard Edwards at flanker … has good hands and excellent speed … has added 40 pounds since coming to Ohio State and is one of the Buckeyes' better blocking wide receivers … played in 9 games last year for a total of 41 minutes … lone career reception came last year at Purdue and covered seven yards … a high school kicker who had never played wide receiver before coming to Ohio State.
1989: Played a total of 12 minutes in four games.
1988: Redshirted
Personal: Played four years of soccer and two years of football at Princeton … kicked a 48-yard field goal as a junior and was seven of nine during his career … kicked 8 PATs in two games in the state playoffs when Princeton won the state title his senior year … also a member of Princeton's state championship 3,200 meter relay team as a sophomore … his older sister, Stacey, plays basketball at the University of Louisville … hobbies include jogging, soccer, and reading murder mysteries … another sister, Allison, is working on her doctorate in chemistry at Ohio State.
Offense
| Season | Team | G | GS | Tgt | Rec | Rec Yds | Rec Avg | Rec TD | Lng | Fum |
| --- | --- | --- | --- | --- | --- | --- | --- | --- | --- | --- |
| 1989 | Ohio State | 4 | 0 | NA | 0 | 0 | 0 | 0 | 0 | 0 |
| 1990 | Ohio State | 8 | 0 | 1 | 1 | 7 | 7.0 | 0 | 7 | 0 |
| 1991 | Ohio State | 11 | 0 | 7 | 1 | 15 | 15.0 | 0 | 15 | 0 |
| 1992 | Ohio State | 11 | 3 | 15 | 6 | 65 | 10.8 | 0 | 18 | 0 |
| Total | - | 34 | 3 | 23 | 8 | 87 | 10.9 | 0 | 40 | 0 |