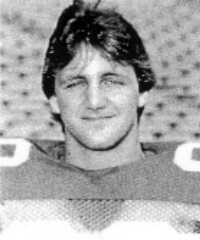 Nationality

United States

Position

ST, TE, DT

Height

6'5"

Weight

251

Birthday

9/9/1966

Hometown

Cincinnati, OH

High School

Princeton

Past Teams

Ohio State

Seasons

1984, 1985, 1986, 1987
Post-OSU Update: Alex Higdon was a third round selection (56th overall) of the 1988 NFL Draft by the Atlanta Falcons. Higdon tore his ACL in his third NFL game, curtailing a promising start in which he had already recorded two touchdowns on three catches. He missed the season and reinjured his knee during rehabilitation. Corrective surgeries could not restore his previous athletic ability, thus ending his football career. Post-football, Higdon went into psychology and works with corporate and sports clients. (updated: Nov. 2022)
Major: Pre-medicine (1984-87)
Weight: 251 (1987), 233 (1985-86)
1987 Media Guide: Saw limited action in each of his first three years at Ohio State, and won a letter each year … has all the qualities to be an outstanding tight end: speed, strength and good hands … an honor student in college studying pre-medicine … determined to make his senior year a great one.
1986: Returned to tight end midway through the 1986 season and made his first appearance in the Iowa game.
1986 Media Guide: An exceptionally talented athlete whose progress has been slowed by two position changes … lettered as a reserve tight end as a freshman … moved to outside linebacker in the spring of 1986 and was impressive … has good speed, impressive strength and excellent body balance.
1985: Moved to defensive tackle and served as a backup.
1985 Media Guide: Considered an excellent receiver even though he only caught one pass last year … has good hands and the ability to catch the ball in a crowd … figures to challenge Ed Taggart for the starting tight end berth … bench presses 340 pounds.
1984: Played in a reserve role at tight end, appearing in 11 games and lettering … saw some action with the specialty teams.
High School: Was an all-Ohio and scholastic All-America tight end at Princeton High … caught passes for over 500 yards as a senior and 375 yards in 1982 … also played baseball (pitcher), basketball (forward) and track (discus and low hurdles) in high school … has taken lessons in boxing.
Personal: Hobbies are sports and people.
Offense
| Season | Team | G | GS | Rush Att | Rush Yds | Rush Avg | Rush TD | Rec | Rec Yds | Rec Avg | Rec TD | Lng | Fum | Lost | FR |
| --- | --- | --- | --- | --- | --- | --- | --- | --- | --- | --- | --- | --- | --- | --- | --- |
| 1984 | Ohio State | 11 | 0 | 0 | 0 | 0 | 0 | 1 | 12 | 12.0 | 0 | 12 | 0 | 0 | 0 |
| 1985 | Ohio State | 7 | 0 | 0 | 0 | 0 | 0 | 0 | 0 | 0 | 0 | 0 | 0 | 0 | 0 |
| 1986 | Ohio State | 12 | 0 | 3 | 22 | 7.3 | 0 | 0 | 0 | 0 | 0 | 11 | 0 | 0 | 1 |
| 1987 | Ohio State | 10 | 10 | 1 | 31 | 31.0 | 0 | 26 | 252 | 9.7 | 0 | 31 | 0 | 0 | 0 |
| Total | - | 40 | 10 | 4 | 53 | 13.3 | 0 | 27 | 264 | 9.8 | 0 | 31 | 0 | 0 | 1 |
Defense
| Season | Team | G | GS | Tkl | Solo | Asst | FR |
| --- | --- | --- | --- | --- | --- | --- | --- |
| 1984 | Ohio State | 11 | 0 | 2 | 2 | 0 | 0 |
| 1985 | Ohio State | 7 | 0 | 5 | 3 | 2 | 0 |
| 1986 | Ohio State | 12 | 0 | 6 | 4 | 2 | 1 |
| 1987 | Ohio State | 10 | 10 | 1 | 1 | 0 | 0 |
| Total | - | 40 | 10 | 14 | 10 | 4 | 1 |