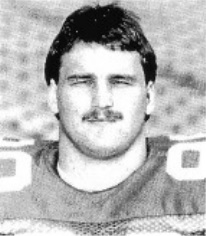 Nationality

United States

Position

Quarterback

Birthday

12/19/1964

Hometown

Akron, OH

High School

St. Vincent-St. Mary

Height

6'3"

Weight

223

Past Teams

Ohio State

Seasons

1984, 1985, 1986
Major: Recreation Education (1985-86)
Weight: 223 (1986), 220 (1985), 212 (1984)
1986 Media Guide: A starting tight end the past two seasons … has played in 33 of the possible 36 games over a three-year period … caught 14 passes in 1984 and 31 last year … can be used as a backup punter if needed.
1985: His top game was against Washington State, when he caught seven for 88 yards and one touchdown.
1985 Media Guide: Caught 14 passes for 119 yards, including several in which he overpowered defenders … has good hands, a strong physique and is highly competitive.
1984: A regular in 1984, playing in nine games and starting as many … an injury in the Minnesota game, caused him to miss three contests.
1984 Media Guide: An impressive spring practice makes him the chief challenger to Judd Groza to start at tight end … averaged 40.6 yards per punt in the two spring games.
1983: Lettered as a freshman in 1983 after seeing action as a reserve tight end and a member of the specialty teams.
High School: His St. Vincent-St. Mary High School team won football state championships his junior and senior years … during the three years he was a starter his teams posted a 31-4 record … an all-Ohio tight end.
Personal: Hobbies are racquetball and water skiing … admires Sugary Ray Leonard.
Offense
| Season | Team | G | GS | Rec | Rec Yds | Rec Avg | Rec TD | Lng | Fum | Lost | FR | KR | KR Yds | KR Avg | KR TD |
| --- | --- | --- | --- | --- | --- | --- | --- | --- | --- | --- | --- | --- | --- | --- | --- |
| 1984 | Ohio State | 9 | 9 | 14 | 139 | 9.9 | 0 | 24 | 1 | 0 | 0 | 0 | 0 | 0 | 0 |
| 1985 | Ohio State | 12 | 12 | 31 | 327 | 10.5 | 3 | 24 | 1 | 1 | 0 | 2 | 19 | 9.5 | 0 |
| 1986 | Ohio State | 13 | 13 | 12 | 109 | 9.1 | 0 | 21 | 0 | 0 | 0 | 0 | 0 | 0 | 0 |
| Total | - | 34 | 34 | 57 | 575 | 0 | 3 | 24 | 2 | 1 | 0 | 2 | 19 | 0 | 0 |
Defense
| Season | Team | G | GS | FR | KR | KR Yds | KR Avg | KR TD |
| --- | --- | --- | --- | --- | --- | --- | --- | --- |
| 1984 | Ohio State | 9 | 9 | 0 | 0 | 0 | 0 | 0 |
| 1985 | Ohio State | 12 | 12 | 0 | 2 | 19 | 9.5 | 0 |
| 1986 | Ohio State | 13 | 13 | 0 | 0 | 0 | 0 | 0 |
| Total | - | 34 | 34 | 0 | 2 | 19 | 0 | 0 |