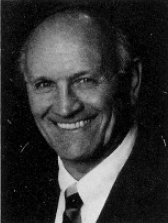 Nationality

United States

Current Team

Ohio State

Past Teams

Ohio State
College: Northwestern, 1961
OSU Coaching History:
1992-94: Wide receivers coach
1992 Media Guide: Mike Stock is in his first season on the Ohio State staff. An assistant with the Cincinnati Bengals the past six years, Stock will coach the Buckeyes' wide receivers.
The 52-year old Stock has an Ohio and Big Ten background. A native of Barberton, Ohio, he graduated from Northwestern in 1961. He played fullback for the Wildcats, earning all-Big Ten honors in 1959 and "60, and was a two-year co-captain for the Ara Parseghian- coached Wildcats.
Stock began his coaching career as an assistant at Northwestern in 1961. He has coached, too, at Akron South
High School in Ohio (1965), the University of Buffalo (1966-67), Navy (1968), Notre Dame (1969-75 and 1983-85) and Wisconsin (1975-777) as an assistant. and at Eastern Michigan (1978-82) as a head coach.
Stock was offensive coordinator at both Notre Dame. during his second tour there, and at Wisconsin.
Stock, who spent a year with the New Jersey Generals (1983), joined the Bengals' staff in 1986 as special teams coach. He remained in that role for three years before taking over as wide receivers' couch in 1988. In 1990, he coached the Bengals' tight ends.
Stock also has coached the wide receivers at Navy and Notre Dame.
Stock and his wife. Peggy, have two sons, Michael and Patrick, and a daughter, Cynthia.