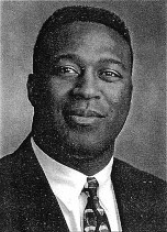 Nationality

United States

Past Teams

Ohio State
College:
OSU Coaching History:
1995 Media Guide: Lovie Smith is in his first year as a member of the Ohio State football staff, but he and head coach John Cooper go back a long way.
Smith played for Cooper at the University of Tulsa between 1977 and 1979 and was a two-time All-America and three-time All Missouri Valley Conference linebacker for the Golden Hurrcane. He later worked for Cooper at Tulsa, coaching the linebackers for four years.
Prior to coming to Ohio State, Smith spent two years as defensive backfield coach at the University of Tennessee.
Smith, 37, is a native of Big Sandy, Texas. He was a three-time all-state linebacker at Big Sandy High School before enrolling at Tulsa. After graduating from Tulsa, he begun his couching career at Big Sandy, spending one season there and one at Cascia High School in Tulsa.
In 1983, Smith went to work for Cooper at the University of Tulsa. He left his alma mater following the 1986 season to become linebacker coach at the University of Wisconsin. In 1988 he went to Arizona State as linebacker coach, a position he held for four years before moving to the University of Kentucky in 1992. He spent one year at Kentucky and then moved to Tennessee prior to the 1993 campaign.
Lovie and his wife, Mary Anne, have three children: Mikal (18), Matthew (8) and Miles (4).