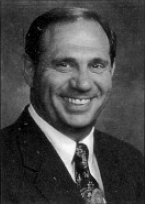 Nationality

United States

Current Team

Ohio State

Past Teams

Ohio State
College: Ashland College, 1973
OSU Coaching History:
1994: Assistant to the Director of Football Operations
1993: Recruiting Coordinator
1993 Media Guide: Larry Petroff is in his first season as Ohio State's recruiting coordinator. He came to OSU last March, replacing J.D. Graham.
Petroff, 42, had been the recruiting coordinator at Pittsburgh the past three years.
Petroft has an extensive Ohio and Big Ten background. A native of North Olmsted, Ohio, he has been recruiting coordinator at Illinois, Purdue and Northwestern in the Big Ten.
A 1973 graduate of Ashland College, Petroff spent eight years as a high school coach, all in Ohio, after graduation. He was offensive coordinator at Maple Heights from 1976 to 1978, defensive
coordinator at Black River High School between 1979 and an assistant at Cleveland Heights in 1982.
Between 1983 and 1985, Petroff coached the defensive line and served as strength coach at Case Western Reserve.
In 1987, Petroff was appointed as recruiting coordinator at Illinois. He left Illinois following the 1988 campaign for a similar position at Northwestern. He was at Northwestern for less than a year
before being lured away by Purdue. He left the Boilermakers in the spring of 1990 for Pittsburgh. During his three years at Pitt, Petroff has become recognized as one of the top recruiters in college football.
Larry and his wife, Evie, have seven children, Loran 20, Alison 16, Scott 13, Bradley 6, Alex and Jason 4, and Katie.