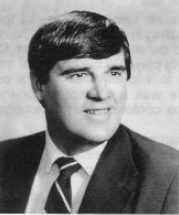 Nationality

United States

Past Teams

Ohio State
1986-87: Tackles and Tight Ends Coach
1988-90: Interior Offensive Lineman Coach, Special Teams Coordinator
1991: Defensive Ends Coach, Special Teams Coordinator
1991 Media Guide: Bob Palcic is starting his sixth year as a member of the Ohio State football staff. His first five years were with the offensive line. This s year, however, he moves to the other side of the ball, taking. over the Buckeyes' defensive ends.
Additionally, Palcic also serves as the Buckeyes' special teams coordinator. Last year, in his first year in that capacity, OSU finished second in punt returns and third n kickoff returns in the Big Ten.
1990 Media Guide: Bob Palcic is in his fifth season at Ohio State. In addition to coaching the Buckeyes guards and centers, he was named this past spring as special teams coordinator.
Palcic joined the Ohio State staff in June of 1986. He came to Ohio State from the University of Arizona, where he coached the offensive line for three years. During his first two years at Ohio State (1986 and 1987), Paicic coached the Buckeyes' tackles and tight ends. He took over the guards and centers prior to the 1988 season.
Palcic, a native of Gowanda, N.Y., graduated from the University of Dayton in 1971. He played football for the Flyers, starting at linebacker for two years.
Palcic began his collegiate coaching career in 1973 as a graduate assistant at Ball State. After one year in that role, he returned to the University of Dayton as a full-time assistant, coaching the Flyers' defensive line and linebackers.
Palcic left Dayton in 1976 to return to Ball State as offensive line coach for the late Dave McClain. In 1978, he accompanied McClain to the University of Wisconsin. He coached the Badgers' offensive line for four years before joining the staff of the Toronto Argonauts in 1982. He returned to college coaching in 1984, when he joined the Arizona staff.
Bob and his wife, Theresa, have three children, Joe, Amy and Monica.
1987 Media Guide: Bob Palcic joined the Buckeye football staff June 1, 1986, replacing Glen Mason, who was named head coach at Kent State.