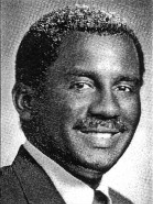 Nationality

United States

Past Teams

Ohio State
College: Ohio State, 1973
OSU Coaching History:
1974-94: Head Trainer
1971-1973:Assistant Trainer
1991 Media Guide: Billy Hill is in his 17th season as head trainer for the Ohio State football team.
In addition to football, Hill also has extensive international experience. He was head trainer at the 1975 Pan Am Games in Mexico City and the 1983 World Track and Field Championships in Helsinki. He also worked the 1984 Olympics, serving as the head trainer for the United States' track team.
Additionally, he has toured the U.S.S.R., Germany and Great Britain as the head trainer for various U.S. track teams.
Hill, 43, is from Memphis, Tennessee. He served three years in the Army, including a tour of duty as a corpsman in Vietnam, before enrolling at Ohio State.
Hill first joined the Ohio State staff in' 1971 as an assistant trainer. He graduated from OSU i in 1973 and was appointed co-head trainer, with responsibility for football, in 1974.
Hill, one of the most experienced, respected and knowledgeable trainers in his profession, belongs to the National Athletic Trainers Association, the Ohio Trainers Association and the Minority Trainers Association. Locally, he is active in the Merry Makers Club of Columbus.
Billy has four children, daughters Dale, Enshane and Lesley, and a son, Brian, who recently graduated from the Air Force Academy.